University of Missouri Health Care has been recognized for the ninth consecutive year as one of the nation's "Most Wired" health systems, according to the 2019 Most Wired survey by the College of Healthcare Information Management Executives (CHIME). MU Health Care has been certified as a "level 9" health system for implementing and leveraging advanced technologies to improve patient care. As a level 9 health system, MU Health Care is in the top 2% of organizations recognized by the Most Wired survey.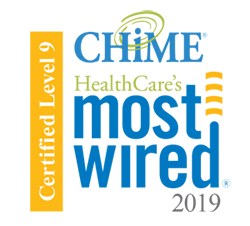 "At MU Health Care, we strive to deliver quality, seamless care to patients across our hospitals and clinics," said Jonathan Curtright, chief executive officer of MU Health Care. "This level of care would not be possible without robust information technology to help us deliver the well-coordinated care our patients expect and deserve. We are honored to be recognized as a level 9 Most Wired health system, which ranks us among the top 50 health systems in the country for IT innovations."
Most Wired hospitals and health systems are determined by the annual Most Wired survey, which recognizes top health care organizations that exemplify best practices through their adoption, implementation and use of information technology. The survey identifies best practices and promotes the strategic use of health care IT to elevate the health and care of communities around the world.
MU Health Care's health IT operations are led by the Tiger Institute for Health Innovation, a unique private-public partnership between the University of Missouri and Cerner Corporation. The Tiger Institute recently marked 10 years of improving patient care through health IT innovations.
"We have a responsibility to our patients to deliver technology that can help save and improve lives," said Bryan Bliven, chief information officer of MU Health Care and executive director of the Tiger Institute for Health Innovation. "This includes advancements such as automatic alerts that notify medical providers when a patient is at-risk for sepsis, our HEALTHConnect online portal where patients conveniently can manage appointments, request prescription refills and more, or our shared electronic health record that ensures smooth, coordinated delivery of care."
Through Cerner's electronic health record, MU Health Care has connected patient data from multiple hospital and clinic locations to better inform and guide care decisions based on a more complete picture of a person's health. Over the last few years, the Tiger Institute began expanding and sharing its EHR and patient portal functionalities with Lake Regional Health System in Osage Beach and Capital Region Medical Center in Jefferson City, connecting patient information across the state. This work is also supported by connections with clinically integrated health networks MPact Health and the Health Network of Missouri.
The Tiger Institute Health Alliance Health Information Exchange has connected care across Missouri, the region and nationwide exchanges. These exchanges support physicians at different organizations to electronically share and use up-to-date patient health records to inform care. This creates efficiencies and cost savings through improved coordination and quality of care and a reduction of duplicate services.