Roger A. de la Torre, MD, FACS, section chief of bariatric surgery at University of Missouri Health Care, has been named a fellow of the National Academy of Inventors (NAI).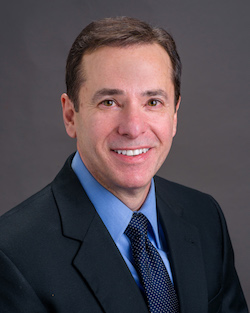 Election as an NAI fellow is an honor given to academic inventors who have demonstrated innovation in creating or facilitating inventions that have made an impact on quality of life, economic development and the welfare of society.
De la Torre, who also serves as associate professor and the John A. Growden Endowed Professor of Surgery at the MU School of Medicine, is the director of the MU Biodesign and Innovation Program. The program is designed to identify and develop solutions to unmet health needs, often through the creation of new medical tools or surgical instruments. Under the direction of de la Torre, medically trained fellows, engineering fellows and finance fellows work to design new tools, create prototypes and obtain patent protection.
De la Torre holds more than 65 patents on products that are in use worldwide. One such patent led to a new laparoscopic surgery method known as Hand-assisted Laparoscopic Surgery, which enables surgeons to use a hand intra-abdominally during minimally invasive procedures.
With the election of the 2016 class, 757 NAI fellows represent 229 research universities and governmental and nonprofit research institutes. The 2016 fellows are named inventors on 5,437 issued U.S. patents, bringing the collective patents held by all NAI fellows to more than 26,000.
De la Torre will be inducted as a 2016 NAI fellow on April 6, 2017, as part of the Sixth Annual Conference of the National Academy of Inventors at the John F. Kennedy Presidential Library and Museum in Boston.