*This article has been updated to include week 52 influenza report statistics.
Christelle Ilboudo, MD, a pediatric infectious disease physician and medical director of infection control and prevention at University of Missouri Health Care, said this has been an especially severe year for influenza. According to the Missouri Department of Health and Senior Services there have been more than 17,000 confirmed cases of laboratory-positive influenza in Missouri since Oct. 1, 2017.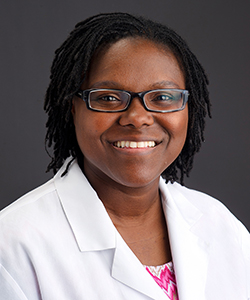 These numbers will increase, as flu season lasts from September through March. However, it is possible to limit the further spread of flu by increasing the number of people vaccinated.
"Until the flu season is over, it is still a good time and a good idea to get a flu shot," Ilboudo said.
Flu vaccines are developed each year using the predominant flu strains present during the Southern Hemisphere's winter months, as these strains are most likely to make their way to the United States. Some years, the strains used to make the vaccine turn out to be different from the strains that make it to the U.S., and so the vaccinations are not as effective. However, Ilboudo said more than 90 percent of the cases confirmed in laboratories have been a match for the viruses seen in Australia, which means that this year's vaccination should help most people avoid the flu.
Populations especially susceptible to flu include people who cannot get the vaccine; people with chronic conditions such as diabetes, chronic obstructive pulmonary disease and asthma; children; and seniors. And because a person can be infected by the flu virus for a while before he or she starts to exhibit symptoms, it's possible to unknowingly expose others.
"It's a good idea to get a vaccine to protect those we love," Ilboudo said.
In addition to getting a vaccine, Ilboudo recommends these tips for limiting the spread of flu:
Know the symptoms of flu. These can include headache, muscle ache, fatigue and fever.
If symptoms appear, see your health care provider to get tested and, if necessary, get treated.
Stay home and avoid contact with others for as long as you have a fever.
Wash your hands regularly with soap and warm water.
Cover your mouth with your elbow when you cough or sneeze and avoid touching your face.
Disinfect surfaces and door knobs regularly.