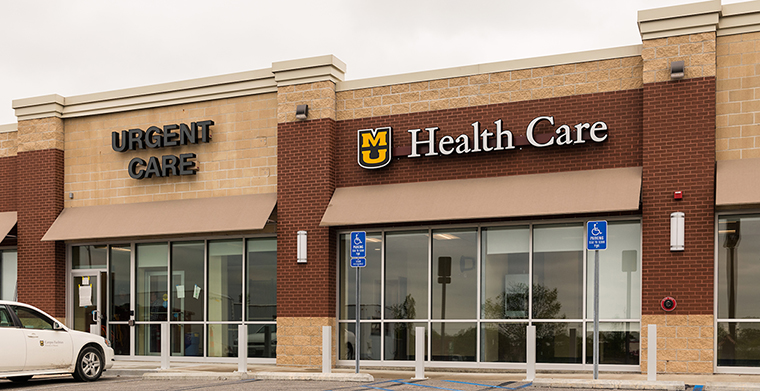 University of Missouri Health Care is growing. To better serve increasing patient volumes, Mizzou Urgent Care— currently located in the South Providence Medical Building— will move to a new location at 3916 S. Providence Rd. It will be open for patients on June 1.
"The need for walk-in care is evident," said Jonathan Curtright, chief executive officer of MU Health Care. "In less than five years we've seen the number of visits to Mizzou Urgent Care more than double. To continue offering convenient, high-quality care in this and other clinics, it's crucial we provide ample space and adequate staffing."
In its new location, Mizzou Urgent Care will grow from six rooms to 12, with four dedicated to pediatrics. Mizzou Urgent Care will close for a day of training in the new location on May 21, then close permanently at its old location on May 31. Pediatric Urgent Care at Children's Hospital also will close permanently after May 31, but its services will be available at the new Mizzou Urgent Care.
"For years, Mizzou Urgent Care has served a real need in our community," said Michael LeFevre, MD, MSHP, chair for the Department of Family and Community Medicine at the MU School of Medicine. "And now with twice the number of exam rooms, a triage space designed for improved efficiency, X-ray equipment and a point-of-care laboratory, Mizzou Urgent Care has the ideal set-up for its processes and procedures. Our physicians and staff look forward to continuing to provide exceptional care to our patients."
With the change in location comes a leadership change as well. For several years, Family and Community Medicine has been the departmental home for Mizzou Urgent Care. As of June 1, Emergency Medicine will manage the clinic.
"Over the past couple of years, Emergency Medicine has strived to expediate patient care while ensuring top-quality care. Today, we are among the fastest academic health centers — consistently among the top 10 percent in the country," said Matthew Robinson, MD, chair for the School of Medicine's Department of Emergency Medicine and medical director at the University Hospital Emergency Medicine Department. "We recognize that each patient's emergency is their life emergency, and each urgency is their life urgency. No matter the severity of the situation, our aim is to ensure each patient receives the very best care as quickly as possible."
Mizzou Urgent Care offers walk-in services for non-life-threatening medical conditions. Hours are 8 a.m. to 8 p.m. Monday through Sunday.
Story Contact
Jenny Dewar
MU Health Care
Office: 573-884-4108
dewarj@health.missouri.edu