Newly FDA-approved procedure uses patient's own cells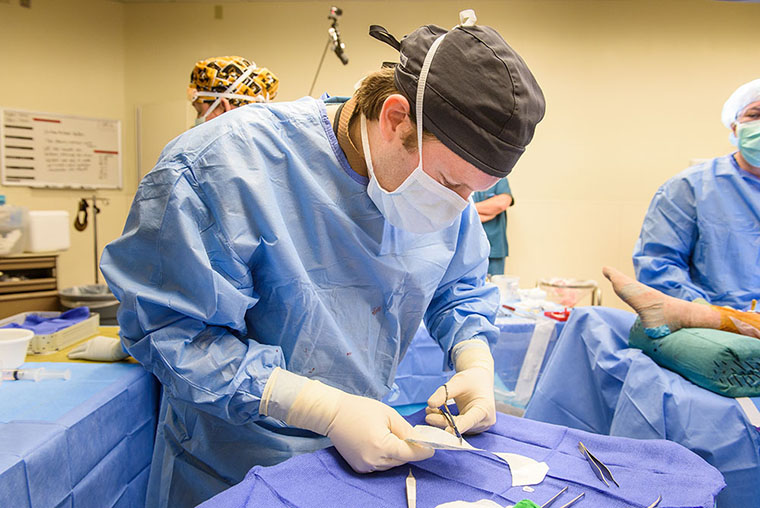 Seth L. Sherman, MD, a sports medicine orthopaedic surgeon at the Missouri Orthopaedic Institute, recently performed the first Matrix Associated Chondrocyte Implantation (MACI) in Missouri.
MACI is a new procedure that uses a thin patch to hold the patient's own cartilage cells in place as they grow. It is the first tissue-engineered cartilage scaffold using the patient's own cells to be approved by the U.S. Food and Drug Administration.
"We are thrilled to be the first to offer this new technology to patients right here in mid-Missouri," Sherman said. "Unlike older cartilage-cell transplant techniques, MACI can be done through smaller incisions with decreased operative time. It also provides an opportunity for faster recovery."
Cartilage damage is a common knee problem that occurs in patients of all ages. It can happen as a result of an injury, like a blow to the knee, or due to wear and tear over time. In either case, it causes knee swelling, stiffness and pain.
Similar to older techniques, MACI uses the patient's own healthy cartilage cells to grow new cells, but in a more precise way. First, the surgeon harvests some of the patient's healthy cartilage cells. Then, those cells are placed on a collagen patch, or membrane, where they grow for six to eight weeks. The surgeon places the patch directly on to the damaged parts of the patient's knee to repair the damaged area.
"With previous cartilage-cell transplants, the surgeon injected the new cells into the knee, but couldn't precisely manage the number of cells or where they landed," Sherman said. "This is an exciting new treatment option for young, active patients with cartilage defects of the knee. It helps achieve our goal of decreased pain, improved function, and restored quality of life for patients."
The collagen membrane is manufactured by Vericel Corporation, headquartered in Cambridge, Massachusetts. Sherman is a paid member of Vericel's advisory board tasked with teaching the procedure to other orthopaedic surgeons around the country.
To learn more about knee problems, symptoms and treatment options, visit the Missouri Orthopaedic Institute online.