As flu season approaches, a University of Missouri Health Care infectious disease expert says that getting vaccinated is the best way to prevent influenza and limit the spread of the disease.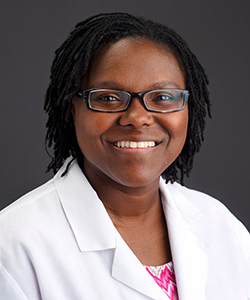 "We are approaching the time of year when we recommend getting vaccinated against influenza," said Christelle Ilboudo, MD, an infectious diseases physician at MU Health Care. "Influenza viruses can start circulating as early as September and can last as late as May. The injectable vaccine takes up to two weeks to provide full protection after receiving it, so it's advisable to get vaccinated sometime between September and the end of October. However, vaccination against the flu should be offered as long as the virus is circulating."
The Centers for Disease Control and Prevention recommends anyone over the age of 6 months receive the injectable flu vaccine. Nasal spray flu vaccine is not recommended.
Influenza is a highly contagious respiratory illness that can be life-threatening if it spreads through the upper respiratory tract and invades the lungs. Infants, children and the elderly have the highest rates of hospitalization from influenza. According to the Missouri Department of Health and Senior Services, more than 70,000 laboratory-confirmed cases of influenza were reported statewide during the 2016-17 flu season.
"It's important to receive a vaccination annually because there are many flu virus strains and they change each year," Ilboudo said. "The different strains of flu that are suspected to be prevalent for a given year are included in the vaccine for that flu season. Influenza vaccinations reduce flu illness and doctor visits, as well as missed work and school. They also prevent flu-related hospitalizations."
Traditional trivalent flu vaccines are made to protect against two influenza A viruses and one B virus. However, in recent years, a quadrivalent vaccine has been developed to protect against a fourth flu strain by adding a second influenza B virus.
Although vaccination is the best way to prevent influenza, an individual still can get the disease if vaccinated after infection or if the strain does not match the vaccine. In such cases, the disease symptoms usually are milder than for those who have not been vaccinated.
"If you do get sick with the flu, it is important to stop its spread by staying home until you have gone at least 24 hours without a fever and without the use of a fever-reducing medication," Ilboudo said. "When coughing or sneezing, do so into your shirt sleeve or the bend of your arm, or cover your nose and mouth with a tissue. This keeps the germs off your hands and reduces the chances of spreading them to the next thing you touch. Flu viruses can live for hours on hard, nonporous surfaces like tables, computer keyboards, door knobs and desks."
Regular hand washing and using alcohol-containing hand gels also help prevent illness and the spread of germs to others. The best hand-washing technique for thorough cleaning includes:
Wetting hands with clean running water.
Lathering by thoroughly rubbing hands together with soap and scrubbing for at least 20 seconds to create friction that lifts dirt and germs from the skin.
Drying hands using a clean towel or air drying them, because germs are transferred more easily to and from wet hands.
"Also avoid touching your eyes, nose and mouth," Ilboudo said. "By keeping any germs that may be on your hands away from your face, you increase your chance of fighting off influenza."
In addition to offering vaccinations at its clinics and pharmacies, MU Health Care is donating 6,000 influenza vaccines to Columbia/Boone County Public Health and Human Services. The donated vaccine will be used to provide free flu vaccinations to children 6 months to 18 years old at Boone County public schools, participating private schools and the Public Health and Human Services clinic at 1005 W. Worley St. in Columbia.
To download broadcast-quality video related to this release, visit http://muextmedia.missouri.edu/munews/ 
Username: GUEST (all caps)
Password: guest (lowercase)