MU Health Care Overview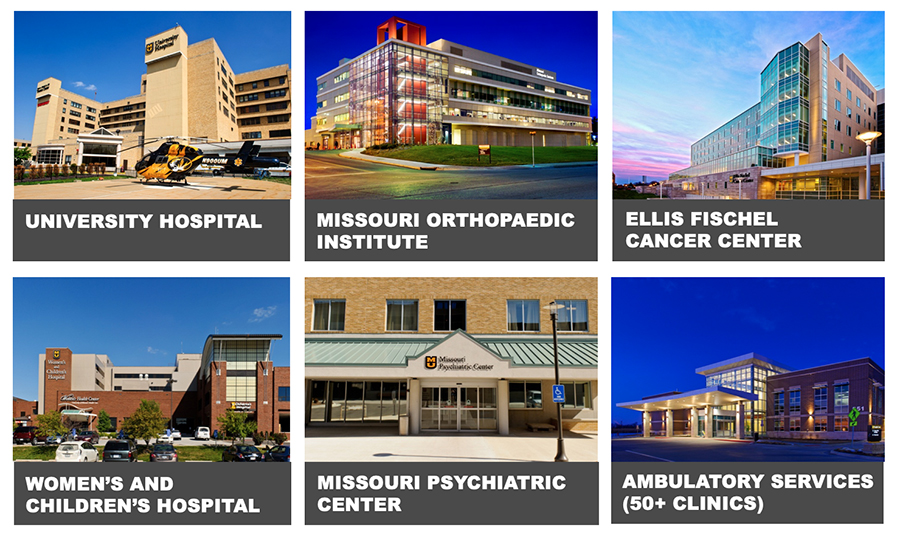 As part of the state's premier academic health system, University of Missouri Health Care offers a full spectrum of care, ranging from primary care to highly specialized, multidisciplinary treatment for patients with the most severe illnesses and injuries. Patients from each of Missouri's 114 counties are served by approximately 6,000 physicians, nurses and health care professionals at MU Health Care.
University Hospital offers the only Level I trauma center and helicopter service in central Missouri. Physicians throughout the state refer many of their most complicated cases to our flagship hospital. The 247-bed hospital specializes in treating the most severe illnesses and injuries. Its seven-story Critical Care Tower provides the latest in medical technology for critically ill or injured patients.
The Missouri Orthopaedic Institute is central Missouri's largest freestanding orthopaedic center, as well as the region's most comprehensive orthopaedic surgery center. The Institute's expert orthopaedic surgeons, nurses, rehabilitation staff and other health professionals offer patients a full range of care in a single location.
Ellis Fischel Cancer Center's team of physician specialists and other trained professionals work together with a common goal: to provide the latest cancer treatments and improve quality of life for thousands of people each year. Named after Dr. Ellis Fischel, a physician who envisioned a statewide plan for controlling cancer, the hospital was dedicated on April 26, 1940, as the first cancer center west of the Mississippi River. At Ellis Fischel Cancer Center we are dedicated to providing comprehensive cancer care, which means we diagnose and treat all types of cancers.
Women's and Children's Hospital is Missouri's only hospital offering the most comprehensive care for women and the only hospital facility dedicated completely to children. The Women's Health Center, located within the hospital, provides world-class care to the women of central Missouri in a compassionate and sensitive environment. Children's Hospital offers more than 30 pediatric specialties to take the best care of our Missouri kids.
The Missouri Psychiatric Center offers short-term, intensive inpatient treatment services for adults, adolescents and children at our facility adjacent to University Hospital in Columbia, Mo. The center's 61 inpatient beds are divided among three units. A 17-bed unit serves pre-adolescents, ages 5-12, and adolescents, ages 13-17, two units with a total of 44 beds serve adults. The MU Psychiatric Center also offers an emergency room assessment unit to help with crisis stabilization, intake and discharge planning for patients.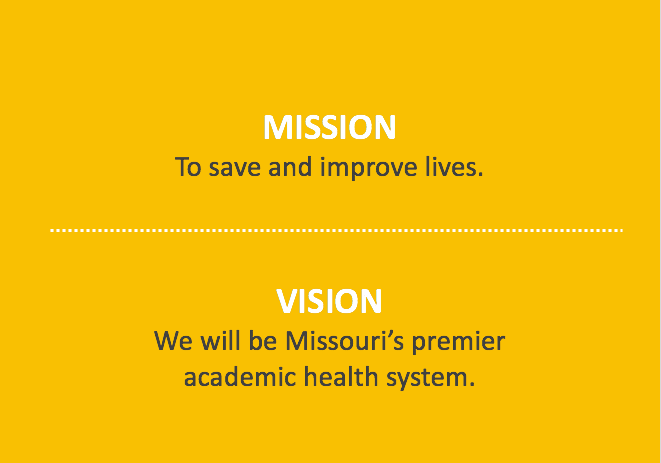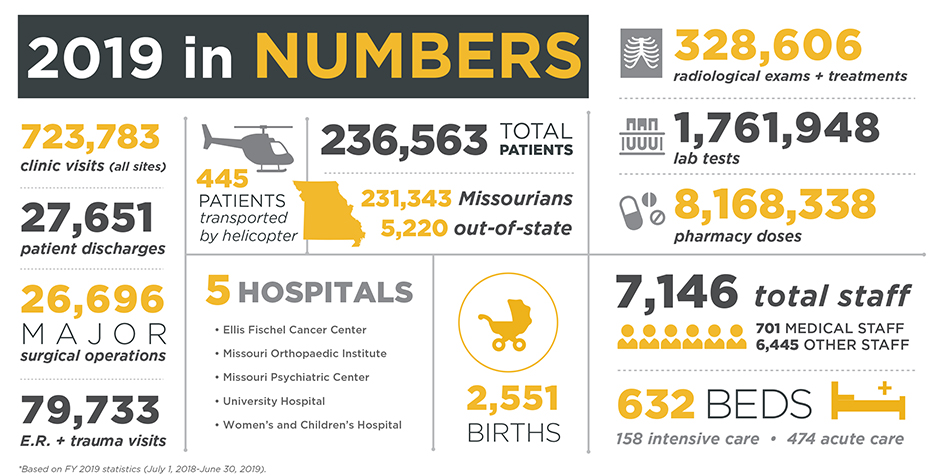 Affiliations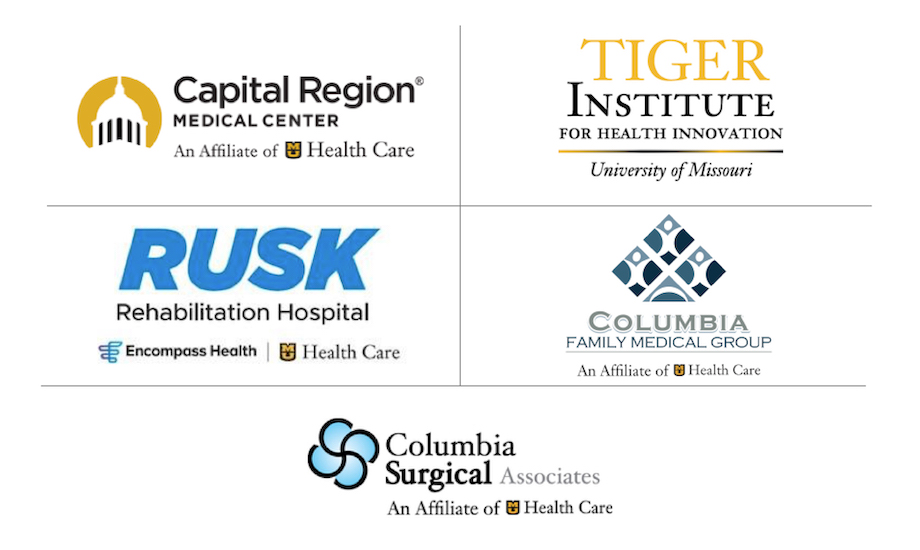 Columbia Surgical Associates and MU Health announced plans to clinically integrate in October 2014. The partnership officially became effective Jan. 1, 2015. Columbia Surgical Associates has provided surgical care in central Missouri for more than 50 years. CSA is comprised of 10 surgeons specializing in general, bariatric, vascular, colorectal and breast cancer surgery, along with 35 other staff. CSA physicians perform many surgical procedures at Boone Hospital Center. The new affiliation means they will also have privileges at University Hospital, MU Women's and Children's Hospital and other MU Health Care facilities.
Columbia Family Medical Group: Columbia Family Medical Group affiliated with MU Health Care in October 2016. Columbia Family Medical Group has provided primary care in central Missouri for 40 years. CFMG is an eight-provider group comprised of six board-certified and board-eligible physicians and one physician assistant, along with 32 other health professionals, support and administrative staff. Five of the physicians earned their medical degrees from the MU School of Medicine, and four of those physicians completed residencies at MU.
Fulton Family Health Associates: On Dec. 7, 2017, Fulton Family Health Associates will join University of Missouri Health. The affiliation aims to improve efficiency in the delivery of health care services for patients in central Missouri and the state.
Tiger Institute for Health Innovation: The Tiger Institute for Health Innovation is a partnership developed in 2009 between the University and Cerner Corp.  TI is a corporation owned by the University and directed by a ten-member Board of Governors to include five representatives from the University (two from MU Health Care) and five representatives from Cerner. TI accelerated the adoption of a fully-integrated electronic health record (EHR) throughout MU Health Care. Additionally, TI is building a network, the Tiger Health Alliance (THA), that will connect our key customers, providers and patients, throughout the state through a health information exchange (HIE) and personal health record (PHR).
Designations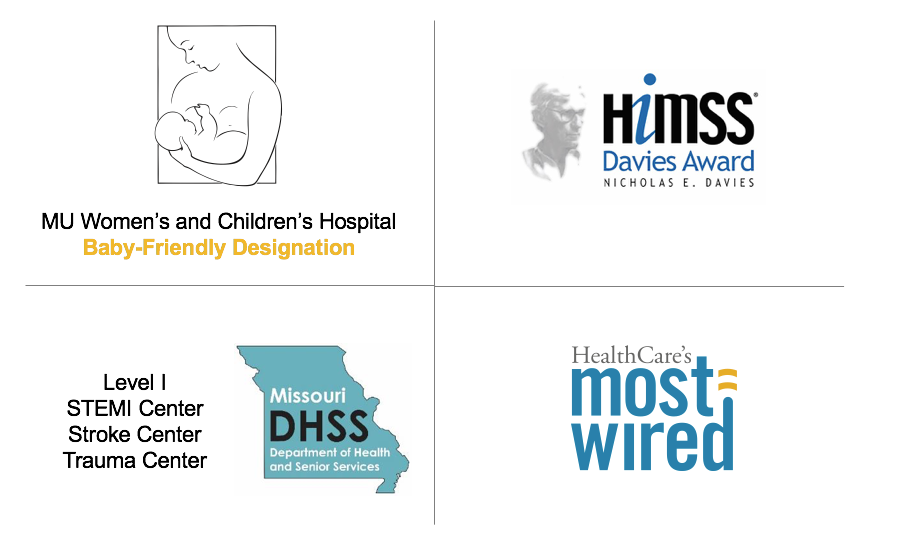 Baby-Friendly: In July 2015, MU Women's and Children's Hospital became the fourth hospital in Missouri to earn the Baby-Friendly designation from the World Health Organization (WHO) and the United Nations International Children's Emergency Fund (UNICEF).
Level 1 Stroke Center: In March 2015, MU Health Care was designated one of the state's first Level I Missouri State Time Critical Diagnosis Stroke Centers, the highest recognition a hospital can receive for its stroke program.
HIMSS Davies Award: In October 2015, MU Health Care received the global HIMSS Enterprise Nicholas E. Davies Award of Excellence for health care technology innovations that are improving patient outcomes. HIMSS — which stands for the Healthcare Information and Management Systems Society — is a global not-for-profit organization focused on better health through use of information technology.
Stage 2 Meaningful Use: In August 2014, MU Health Care became the first academic medical center and the ninth health system in the country to meet federal Stage 2 "meaningful use" standards for its adoption of medical information technology to improve patient care. To qualify for Stage 2 meaningful use standards, MU Health Care met 19 objectives set by the Centers for Medicare & Medicaid Services (CMS) related to medical information technology.
Most Wired: In July 2016, MU Health Care was recognized for the sixth straight year as one of the nation's "Most Wired" health systems, according to the 2016 Most Wired Survey by the American Hospital Association.