All video content available for media use.
To download broadcast-quality video and scripts, click on the links above. Once asset is chosen, the download arrow is in the bottom right hand corner.
Image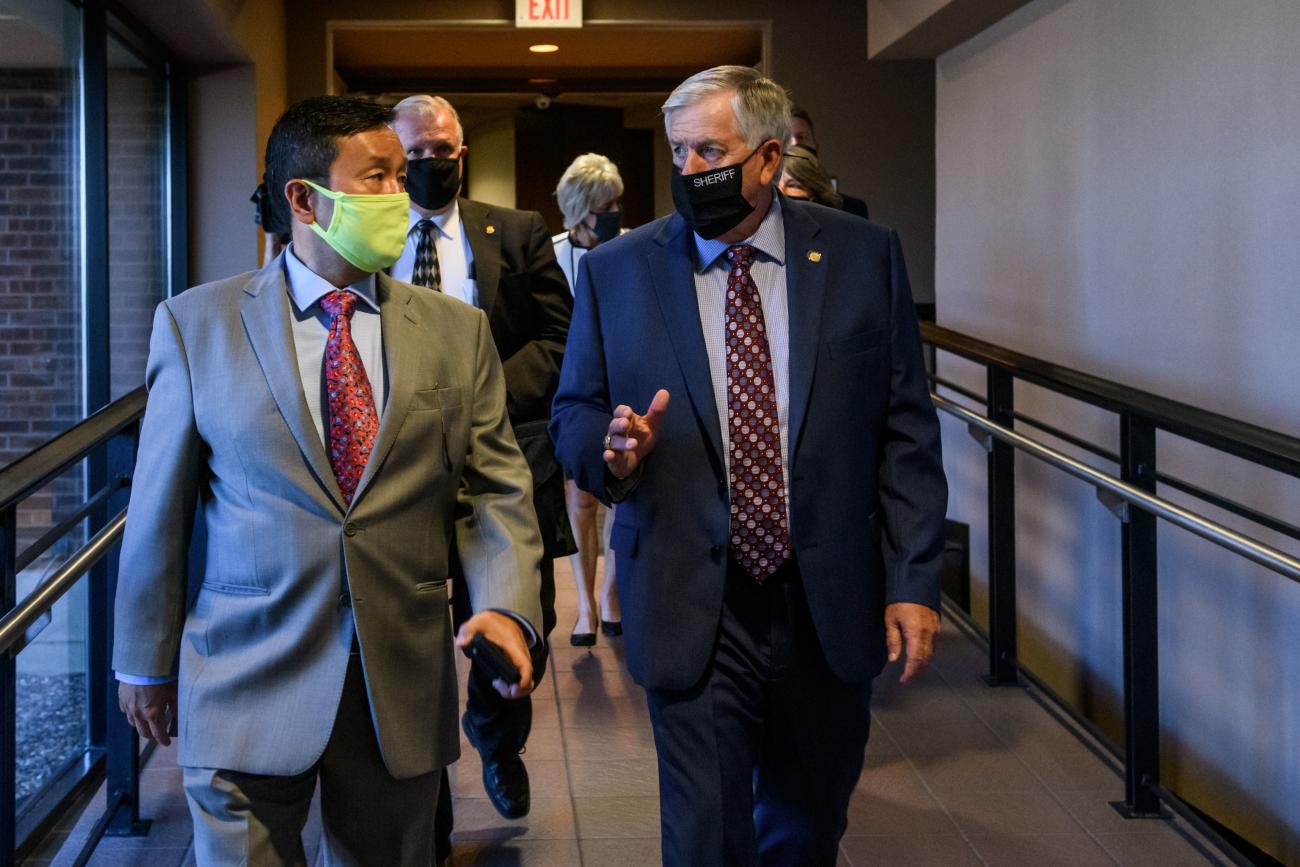 Story Summary
Gov. Mike Parson visited MU Health Care's Women's and Children's Hospital Wednesday morning to discuss several telehealth initatives to improve access to health care in Missouri.
Leaders from MU Health Care, the MU School of Medicine and the Missouri Telehealth Network briefed Parson on how the COVID-19 pandemic prompted an aggressive acceleration of telehealth services across many different disciplines including primary care, mental health, pediatrics and other specialties. Within weeks, telehealth visits increased from less than 2,000 last year to more than 50,000 at MU Health Care in just the few months since the pandemic reached Missouri.
Parson also learned how the Missouri Telehealth Network through the Show-Me Extension for Community Health (ECHO) launched a videoconference providing free COVID-19 training for rural physicians. That training continues each week and an additional COVID-19 related ECHO program recently launched to address the concerns of pregnant women. ECHO programs are also in the works to focus on nursing homes, children and schools.
The discussion with Parson also focused on the future of telehealth and expansion of services to include urgent care and emergency room access to patients in areas where access is limited and the expansion of broadband connectivity in rural parts of the state.
Please contact us with any questions or issues.
Kent Faddis
Video Content Manager
MU Health Care
Office: 573-884-0532
Cell: 573-823-9499 
faddisk@health.missouri.edu
Megan Noe
Video Content Producer
MU Health Care
Office: 573-884-0512
Cell: 309-721-9885
noemm@health.missouri.edu