Danielle Quintero, 26, had a lot on her mind when she picked up her boyfriend at the Kansas City International Airport on Sept. 29, 2015. She was planning on defending her doctoral comprehensive exams and presenting her dissertation proposal for her PhD in counseling psychology at the University of Missouri the next day. On the way back to Columbia, though, she was in a car crash that nearly claimed her life.
"Until my accident, I didn't have a full understanding of what a physical disability entails," she said. "As a therapist, I work with patients undergoing trauma, but I hadn't ever experienced physical injury myself."
Danielle's boyfriend, Dylan Orosco, was driving her car when he lost control. Danielle was ejected through the Mazda's back window moments before the car began to roll.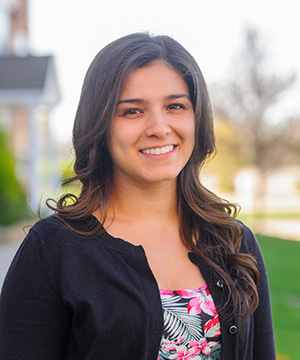 The next thing Danielle remembers is briefly waking up on grass alongside the interstate where the couple had been travelling.
The accident happened around the 52-mile marker of eastbound Interstate 70 in Lafayette County. An ambulance took Dylan to a nearby hospital. Danielle's injuries were so severe that she needed the highest level of care possible. The Staff for Life Helicopter Service airlifted her to the nearest Level I trauma center: University Hospital's Frank L. Mitchell Jr., MD, Trauma Center in Columbia.
Danielle's injuries included 11 broken ribs, 3 fractures in her spine, 2 collapsed lungs, fractures in her neck, a liver laceration and a mild brain injury. At one point, she remembers waking up in the hospital, unable to move her feet and afraid that she would never walk again.
"I was in so much pain," Danielle said. "But I had a good relationship with the nurses in the ICU. Every so often the nurses had to rotate me and they took great care. The nurses were fantastic. They tried to make sure my mom and Dylan were as comfortable as they could be."
After a week in the hospital, Danielle underwent a four-hour spinal surgery procedure led by neurosurgeon William Humphries III, MD.
"Dr. Humphries updated my mom and Dylan throughout the surgery," Danielle said. "That emotional piece is so important. There's lots of unknowns when you have a loved one in the hospital. Yes, I was the trauma patient, but they were secondary trauma victims and the staff cared for them, too."
Ten days after the accident, Danielle was discharged to Rusk Rehabilitation Hospital, an affiliate of Encompass Health and MU Health Care, in Columbia to continue her recovery. Christopher Wolf, DO, led her rehab care.
"I just cannot thank Dr. Wolf enough," she said. "He's great. My therapists, Lindsey, Dan and David, were so good. Every goal I set, they made sure I was able to reach it."
She insisted on being weaned off her pain medication and regaining her ability to walk. Danielle proudly stepped out the door when she left the rehabilitation center one week later, wearing a brace on her abdomen and using a walker. She attend outpatient therapy sessions at Mizzou Therapy Services as she recovered.
"Throughout my recovery, I was thankful for the support from my family, friends and professors," Danielle said. "I worked too hard to not finish my education."
Danielle met her educational requirements at MU and participated in a residency matching program for educational and counseling psychology. She was thrilled to get placed at her top training site in California, where she will be closer to her family. She was matched at the Porterville Developmental Center, which is a part of the California Psychology Internship Consortium, located in the Central Valley of California. She will graduate in May of 2017 upon completion of her 1-year residency program.
"I want to stay humble and grateful," Danielle said. "My injuries weren't permanent. There are many people who aren't as fortunate as me."
"Anyone I came into contact with at University Hospital and Rusk Rehabilitation Hospital had not only medical expertise but excelled at interpersonal communication," Danielle said. "I could tell that everyone genuinely cared about me. The service was fantastic and I definitely needed it."