Kindergarten graduation did not go as planned for Cora Quinn. Instead of celebrating with her classmates, the Ashland girl spent the day suffering from a debilitating headache.
Cora was no stranger to headaches. She experienced them periodically for months. Sometimes, they would make her feel sick to her stomach. And often, she would tell her parents she was "seeing two" during a headache spell.
After failing a vision test at school, Cora visited an optometrist who prescribed glasses, hoping they would provide some relief from the headaches. But the glasses didn't help.
"We were a little frustrated and very concerned," said Cora's dad, Joel Quinn. "We knew something was wrong with our kid, but nobody knew what it was."
Everything changed a few weeks after graduation day. Cora's parents took her to the pediatrician's office after she woke up with another terrible headache, and her doctor ordered an MRI of Cora's brain at MU Health Care's Children's Hospital.
Acting With Urgency
The Quinns thought they would need to wait a few days to learn the results of Cora's brain scan, but much to their surprise, the doctors delivered their verdict immediately. 
"The doctors wanted to talk to us as soon as the MRI was over," said Cora's mom, Michael Quinn. "We could tell by the look on their faces that they were going to break some news to us."
The MRI revealed a tumor on Cora's brain stem that urgently required surgery.
Joel and Michael met with pediatric neurosurgeon Tomoko Tanaka, MD, to discuss the plan for surgery. Cora was suffering from hydrocephalus — a buildup of fluid in her brain that could cause physical and cognitive issues over the long term — so Tanaka's first move would be to drain the fluid and reduce the pressure in Cora's skull. Then, she would analyze the tumor, removing as much of it as she safely could, and biopsy it to determine whether it was cancerous.
Joel and Michael also met with MU Health Care's oncology team to prepare for a potential cancer diagnosis. Meanwhile, Cora and her younger sister, Chloe, spoke with a child life specialist to learn about the situation in kid-friendly terms.
"I was fearing the worst after we met with the oncology team," Michael said. "They said the odds were pretty high that Cora would have cancer, but we just didn't know yet."
By now, it was late on a Friday afternoon. Cora's surgery was scheduled for Tuesday morning.
"It was Father's Day weekend, so we went home and tried our best to celebrate the holiday and be happy," Michael said. "But we didn't know if it was going to be our last weekend with Cora."
High-Stakes Surgery
The brain stem is responsible for regulating heart rate, breathing, motor skills, emotions and more. Disrupting this area during surgery could have major implications.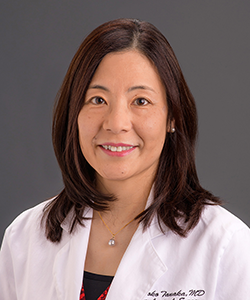 "We can closely monitor the patient's facial nerve and swallowing during this type of surgery," Tanaka said. "But there is no way to know about everything else until after he or she wakes up and is examined."
After draining the fluid from Cora's brain, Tanaka assessed the tumor's position and location. Fortunately, she was able to peel the entire tumor off of Cora's brain stem rather than cut it out. From there, the tumor was sent to the pathology lab for analysis.
Outside the operating room, Michael and Joel anxiously awaited updates from Cora's surgical team. Friends and family joined them throughout the day to keep them company during the nine-hour surgery.
"We just sat there and waited and tried to take our minds off the surgery. We didn't want to leave the waiting room because we didn't want to miss any updates," Michael said.
After what seemed like an eternity, Tanaka emerged from the operating room and declared the surgery a success. Then, three days later, the Quinns learned another piece of good news: The tumor was not cancerous.
The Road to Recovery
Cora received daily visits from the hospital's physical, occupational and speech therapists as she recovered from surgery.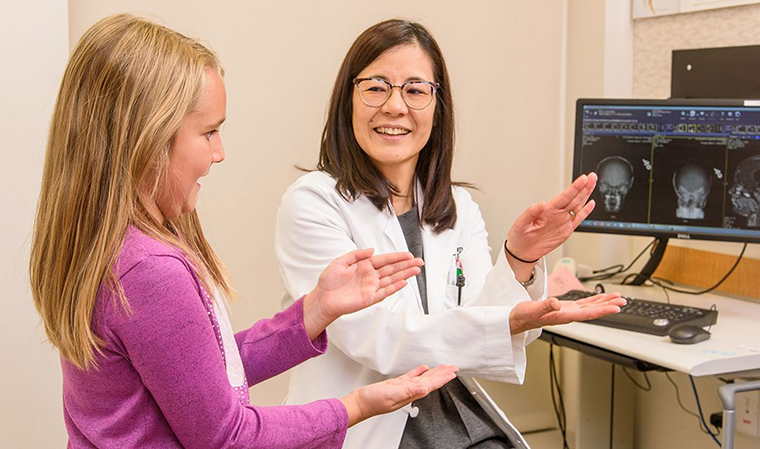 "For the first few weeks after surgery, Cora was basically emotionless," Joel said. "She was never mad, sad, happy, scared or anything. It was really weird and actually kind of disturbing to see her like that."
Slowly, Cora returned to her old self and regained her bubbly personality. She finally went home after spending nearly a month at Children's Hospital. She now returns every three months for follow-up MRIs and examinations, and she also visits an ophthalmologist regularly to address some lingering vision issues.
"We want to make sure the tumor is not growing back," Tanaka said. "We also check her balance and motor skills during her visits to make sure she isn't experiencing any problems in those areas."
Today, Cora is back to enjoying her favorite hobbies of reading, writing stories and songs, dancing and going to art club. She will soon "graduate" to semiannual visits with Tanaka and then eventually to yearly visits.
"Dr. Tanaka and the Children's Hospital team did amazing work," Michael said. "They are miracle workers. The results we got were the best results we could have had."