School is out for the summer, which means team tryouts are just around the corner. Now is the perfect time for student athletes to visit an MU Health Care provider for their annual sports physicals.
The Missouri State High School Activities Association (MSHSAA) requires all junior-high and high-school athletes to complete a sports physical to ensure their eyes, lungs, hearts and limbs are healthy enough to hit the field. The exam will take about 20 minutes if the provider detects no abnormalities.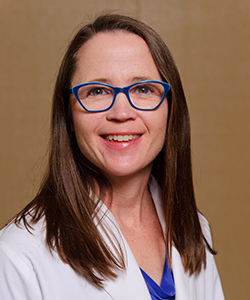 "The sports physical might be the one yearly interaction we get with our young patients," said Tara Flynn, MD, of MU Health Care's Urgent Care clinics. "So, we commonly also treat this visit as a time to speak with them about the wide range of things adolescents deal with. The conversation often touches on mental health, sexual health and nutritional habits."
Be sure to print and fill out MSHSAA's physical evaluation form before the appointment, and consider filling it out as a family, as it poses an extensive list of questions regarding the student athlete's medical history and health habits.
"Take your time filling out the form," Flynn said. "Use it as a discussion piece with your child. Make it a shared learning experience so that he or she can become both a better patient and a better athlete."
MU Health Care's primary care providers, Quick Care clinics and Urgent Care all conduct sports physicals. The Missouri Orthopaedic Institute also hosts a yearly "Sports Physical Day" where physicians, optometrists and orthopaedic specialists are on hand to provide free evaluations.
Keep in mind that many families wait until the last minute to get their sports physicals. Visiting a provider earlier in the summer will likely result in shorter wait times at MU Health Care's Quick Care and Urgent Care clinics.
Visit Quick Care or Urgent Care