It's peak flu season, with more than 30,000 confirmed cases in Missouri since October 2017. Some populations, including children, are especially vulnerable to complications stemming from influenza, so early detection and treatment are important.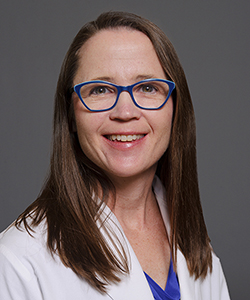 Tara Flynn, MD, a family medicine physician at Mizzou Urgent Care, said children – particularly those 5 and younger – should be seen as soon as possible if they are showing flu symptoms. These symptoms can include:
Cough
Fast symptom onset
Decreased appetite
Fever (Dr. Flynn says any fever, not just a high one)
Vomiting
Fatigue and/or confusion
Severe headache and/or sore throat
Achiness
Parents with children exhibiting these symptoms should call their pediatrician's office first.
Other convenient care options include:
Pediatric Urgent Care, Mid-Missouri's only urgent care just for kids, is open 5 to 9 p.m. Monday-Friday and noon to 6 p.m. Saturday and Sunday. (Location information)
Mizzou Urgent Care treats people of all ages and is open 8 a.m. to 8 p.m. seven days a week. (Location information)
Mizzou Quick Care clinics can treat children ages 2 or older. These clinics are open 7 a.m. to 7 p.m. Monday-Friday and 8 a.m. to 4 p.m. Saturday and Sunday. (Location information)
Flynn said children experiencing more severe flu symptoms such as labored breathing and/or signs of dehydration — lack of urination, dry or cracked lips, drowsiness, cold or dry skin, weakness or limpness, lack of tears when crying — should be taken to the Children's Hospital Emergency Room.
Keep in mind that many of our clinics and providers are seeing high patient volumes during this time, so there might be a longer than usual wait time.