If your child needs occupational, physical or speech therapy, our dedicated children's therapy team is here to help. We specialize in pediatric treatment and have the equipment, technology and training to work with young patients.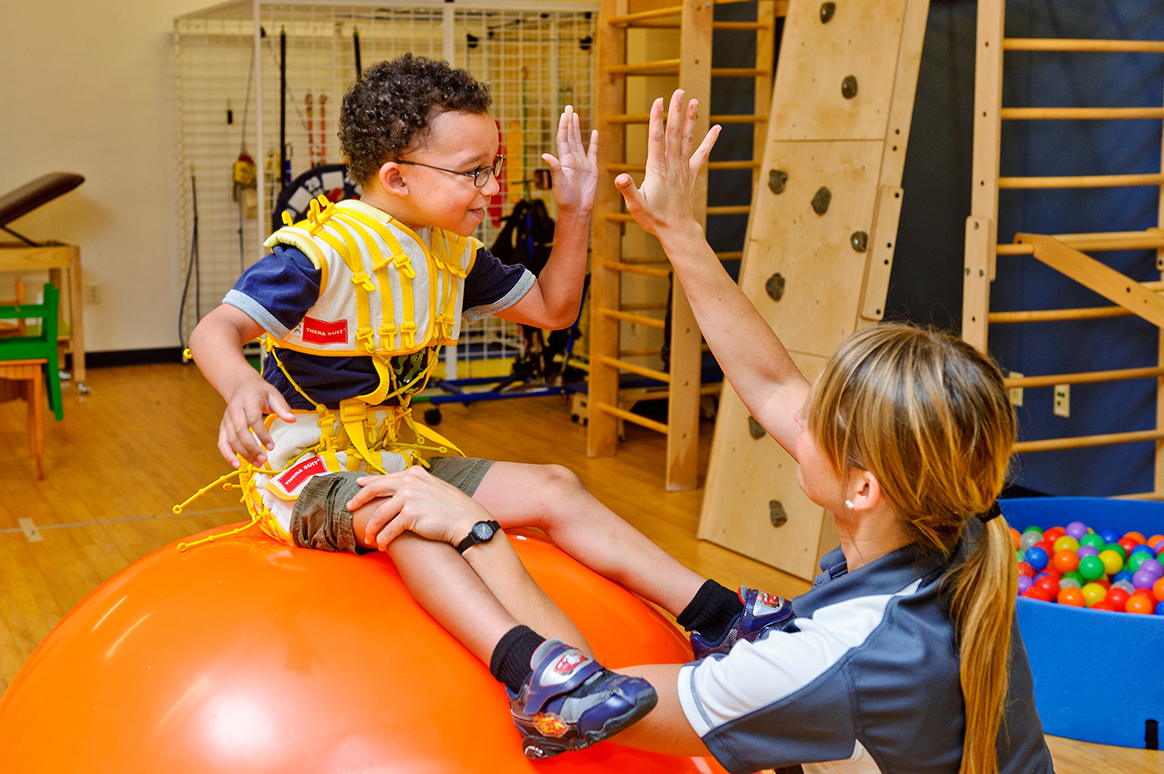 Children's outpatient therapy
The Children's Therapy Center offers a state-of-the-art facility for outpatient children's therapy, which provides physical, occupational and speech therapy services for children from birth to age 18. Outpatient therapy is provided to help improve overall function and quality of life.
Our outpatient facility houses all-inclusive and accessible equipment with well-planned space. Children are encouraged to work hard, but play harder.
In addition to high-quality indoor activity rooms and gymnasiums, the therapy center features a unique outdoor playground. It's designed to help kids reach their goals of running, jumping, climbing, wheelchair propulsion and navigation. The playground also features components to promote high-level thinking, sensory exploration and misting stations for warm weather.
Our clinicians are recognized throughout the community for outstanding qualities and dedication to the well-being of our children. We work closely with rural therapists and teachers to help improve continuity of care. In addition, telehealth and mobile communication techniques are available to enhance long-distance communication.
Children's conditions we treat
Our therapists treat the following conditions:
Autism. A developmental disorder that impairs a child's communication and social interaction skills.
Brachial plexus injury. An injury to the network of nerves in the neck and chest area that provide signals from the spine to the arm, hand and shoulder.   
Cerebral palsy. A congenital disorder caused by brain damage that affects balance, movement, muscle control and coordination, motor skills and oral motor functioning. 
Cleft palate. A birth condition in which a baby is born with a split in the lip and roof of the mouth.
Cystic fibrosis. A life-threatening condition that causes the body to produce too much mucus in the lungs and digestive system.
Developmental delay. When a child does not reach a developmental milestone—often related to motor, language, thinking or social skills—by the expected age. 
Down syndrome. A genetic disorder that causes intellectual and developmental delays.
Dyspraxia. A developmental coordination disorder in children who are otherwise healthy.
Feeding and swallowing disorders. A child has difficulty eating or swallowing food or beverages.
Gait abnormalities. When a child has a walking pattern that is not considered normal.  
Juvenile arthritis. Autoimmune and inflammatory conditions in children.
Muscular dystrophy. A group of diseases that cause progressive muscle loss and weakness.
Neuromuscular conditions. Conditions that affect how the muscles function.
Orthopaedic injuries. Injuries to the bones, joints, ligaments, tendons, cartilage and/or connective tissue.
Sensory processing disorders. Disorders that affect how a child processes information they receive through their senses.
Speech apraxia. A disorder in which children have trouble saying words, sounds and syllables.
Spina bifida. A birth defect in which the spinal cord does not develop correctly.
Torticollis. A condition in which the neck muscles contract in a way that causes a child's head to turn to one side.
Traumatic brain injury. Brain damage caused by a serious head injury.