Staying in the hospital should be a comfortable, healing experience. At University of Missouri Health Care, we are committed to providing convenient care in a relaxing environment. We help you know what to expect so you can feel prepared for your stay and care.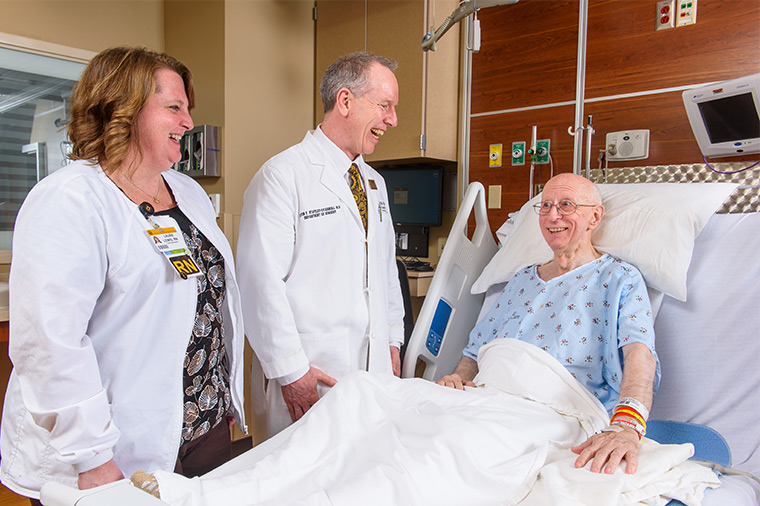 Checking in at the hospital
When you arrive at University Hospital and Children's Hospital, please stop at the registration desk in the lobby. A staff member will help you fill out necessary forms and discuss your stay. You may have lab tests and X-ray procedures before you go to your room.
Your hospital meals
Your diet is important to your care. Your doctor will tell the dietitian about your nutritional needs. Most patients, even those on restricted diets, will receive a menu each morning. At breakfast, you will be asked to order your meals for the next day. If you have any questions about your meals, please ask your nurse.
If you miss a regularly scheduled meal, you will be given a special light meal on request. If you are in the hospital on your birthday and your diet permits, you will have a birthday cake to celebrate.
If you would like to see a dietitian for counseling or for information about special diets, please ask your doctor, your nurse or the attendant who picks up your menu.
Packing for the hospital
You may bring personal care items such as toiletries and reading material. For safety reasons, please do not bring electrical equipment. Each patient room has a TV.
We suggest you don't bring valuable items to the hospital. If necessary, the security staff or your nurse can help you put valuables in the hospital safe. We will give you a receipt and you can get the items before you return home. The hospital cannot be responsible for money, jewelry, clothing or other items kept at your bedside.
Items such as eyeglasses, contact lenses, dentures and hearing aids are also your responsibility. Please put them away in cases or cups when you aren't using them and tell your nurse where you put them.
Your medicines
To ensure you receive the correct medicines during your stay, please give your nurse a list of any medicines, including the dosages and times you take them. If you bring your medicines with you to the hospital, we ask that you send them home with family members so you'll have them when you return home.
Advance directives
Advance directives tell your doctor about your health care decisions in case you aren't able to communicate them yourself. If you would like more information about advance directives or need help completing an advance directives form, please tell your nurse.
Your hospital bed
Hospital beds are electrically operated and are probably higher and narrower than your bed at home. The nursing staff will show you how to work your bed properly so you can feel comfortable.
Discharge instructions
Your doctor and nurse will give you instructions about how to care for yourself at home. If you have questions about your diet, activities or other matters, please be sure to ask before you leave the hospital.
MIZ Rx 2U - bedside medication delivery service
Our outpatient pharmacy offers bedside delivery for our patients so you can avoid long lines and a stop on the way home. Learn more about our pharmacy services.