Nothing puts time into perspective like a cancer diagnosis.
At Ellis Fischel Cancer Center, we're moving cancer care forward. Because we know each breakthrough gives our patients more time for the moments that matter most. It's a momentum we carry not only in our research, but in everything we do – from the design of our facility to our highly specialized teams.
Being part of an academic health system allows us be at the forefront of the next medical breakthrough. And with each new discovery, we're able to give our patients the comfort of knowing they're getting the advanced care they need, with the best care possible.
Tom was told he had nine months. It's been 20 years.
Diagnosed with a grade 4 brain tumor, Tom and his team at Ellis Fischel used the hope of "one day more" to move cancer care forward. Watch his story below.
The Ellis Fischel Difference
With access to the latest technologies, research, clinical trials and treatment, our doctors and staff work hard to make sure each patient receives the safest, most effective care for their cancer diagnosis. We work in collaborative teams, with specialists from different areas coming together, to not only coordinate care, but to ensure it's as personalized and streamlined as possible.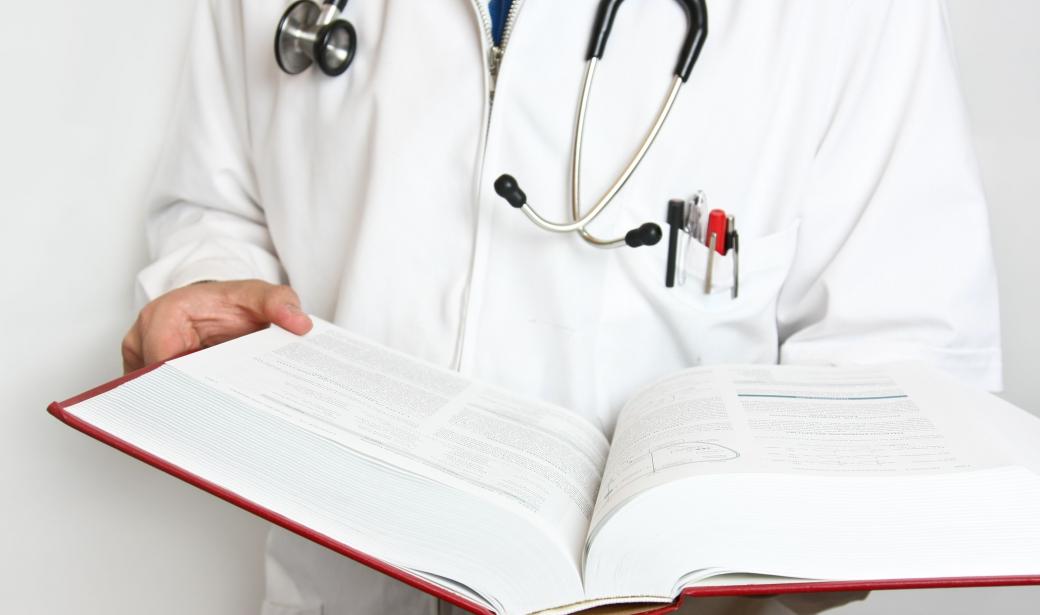 Academic medicine
We're at the forefront of cancer care at Ellis Fischel. Not only do our patients have access to lifesaving clinical trials, our doctors are training the next generation of specialists to take treatments and cures even further. Learn more.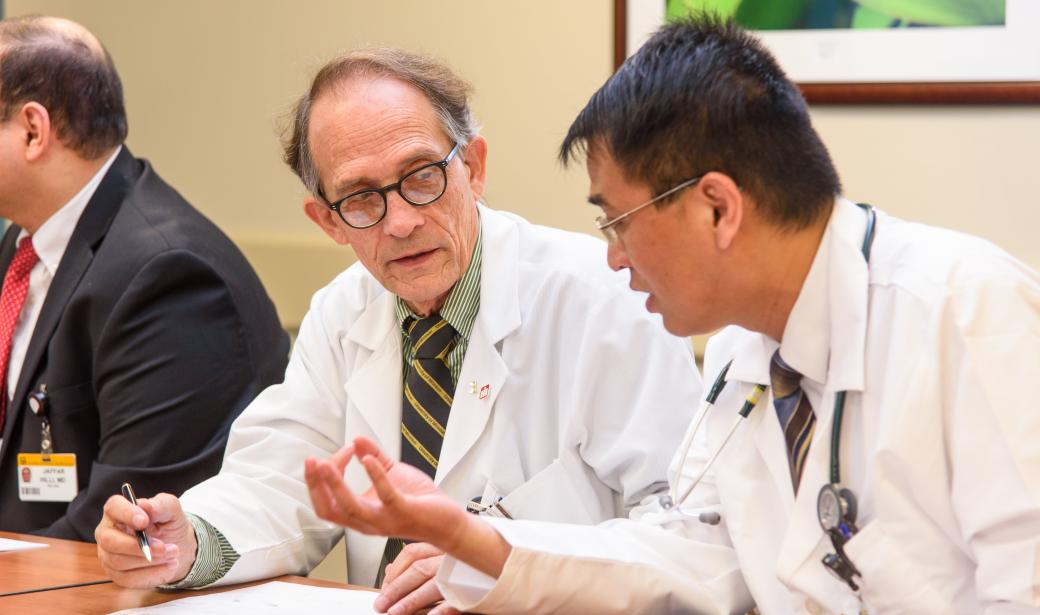 Team approach
Our team approach to helping patients overcome cancer brings together a variety of experts to provide coordinated care at every step – from understanding each phase of treatment to housing family members nearby. Learn more.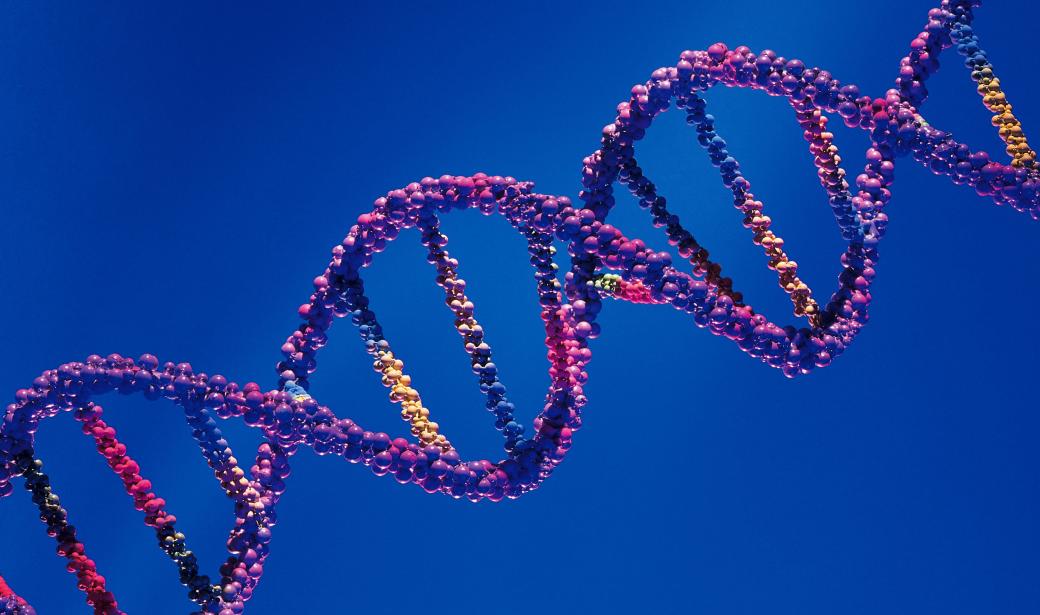 Precision medicine
Just like DNA, every person's cancer journey is different. And that's why Ellis Fischel offers tailored treatments for our patients based on their own genetics. Learn more.
How Ellis Fischel is Moving Cancer Care Forward
From our expert and empathetic care to our team approach and commitment to cancer research, we're here to help patients and families overcome cancer. See how each day, Ellis Fischel provides new treatments and groundbreaking research to move cancer care forward.
How Far We've Come
We're proud of our history and how far we've come to provide our patients with the most advanced cancer care. But we're not done. Thanks to precision medicine and the upcoming opening of our NextGen Precision Health Institute, our doctors and researchers will continue their leading-edge research looking at each patient's genetics, lifestyle and environment to offer the most effective treatment options and cures.
• Ellis Fischel milestones • Cancer treatment and technology • Cancer care milestones
1940s
1940
Ellis Fischel State Hospital opens
with latest cancer treatment (surgery, radiation and X-ray), a floor dedicated to clinical research labs and the Midwest's largest supply of radium (few hospitals met the strict standards for stocking radium)
1941
Hormonal therapy is discovered
1943
First electron linear accelerator
1947
First ever remission
using chemotherapy (pediatric leukemia)
1949
First FDA-approved chemotherapy
1950s
1950
Smoking linked to lung cancer
1951
First patient to be treated with cobalt-60 radiation
1956
First complete cure of human solid tumor
(choriocarcinoma) using chemotherapy
1957
Ellis Fischel adds $100,000 cobalt therapy wing
1958
Combination chemotherapy
leads to partial and complete remission (acute leukemia)
1960s
1960
Ellis Fischel becomes one of 30
hospitals to test various chemo drugs
1960
First fully rotational linear accelerator
1960
Philadelphia chromosome is discovered
and linked to 95 percent of patients with chronic myelogenous leukemia
1964
First virus linked to cancer
1965
First high-success combination chemotherapy
(MOPP – advanced Hodgkin lymphoma)
1966
MU's nuclear reactor begins producing radioisotopes
for research and clinical applications
1970s
1970
Radioactive "seeds"
implanted in prostate (brachytherapy) shown to extend lives versus surgical removal of prostate
1971
Modified radical mastectomy is introduced
as more limited procedure and becomes available at Ellis Fischel
1974
Researchers perform first CT scan on patients
1975
Three-story addition to Ellis Fischel
with expanded lab space and new OR suite
1975
Ellis Fischel adds Sagittaire linear accelerator,
one of only four in the U.S
1975
Adjuvant therapy,
chemo after surgery, has success with early breast cancer, sets stage for others
1979
TP53 gene is discovered,
the most commonly mutated gene in cancer
1980s
1981
FDA approves first cancer vaccine
to prevent cancer-causing hepatitis B and becomes available at Ellis Fischel
1984
HER2 gene discovered
1984
HPV linked to cervical cancer
1985
Clinical trials of lumpectomy paired with radiation
shows similar survival rates versus mastectomy alone for women with early-stage breast cancer
1986
FDA approves PSA
(prostate-specific antigen) test to screen for prostate cancer and becomes available at Ellis Fischel
1988
MU reactor awarded approval for Ceretec,
first commercial radiopharmaceutical to fight cancer
1989
First gene therapy clinical trials
1990s
Early 1990s
Stereotactic body radiation therapy (SBRT) is developed
1990
First FDA-approved immunotherapy treatment
(Bacillus Calmette-Guerin cancer vaccine)
Throughout 1990s
Ellis Fischel researchers play leading role
in Tamoxifen clinical trial for breast cancer prevention
1990
Ellis Fischel merges with University of Missouri
1990
Ellis Fischel adds dual beam linear accelerator
1992
Ellis Fischel rents van to start mobile mammography services
1994
BRCA1 gene discovered
and linked to increased risk of breast cancer
1995
BRCA2 gene discovered
and linked to increased risk of breast cancer
1997
Ellis Fischel purchases their own MammVan
1997
MU reactor awarded approval for second radiopharmaceutical,
Quadramet, to relieve pain caused by bone cancer
1997
FDA approves first-ever molecularly targeted cancer drug,
rituximab; first antibody treatment
1997
BRCA1 and BRCA2 research
helps certain women reduce risk of breast cancer by 90 percent
1998
Doctors begin using intensity-modulated radiation therapy (IMRT)
to target tumors close to the organs
1998
Neoadjuvant therapy,
chemo before surgery, clinical trial helps women undergo lumpectomy instead of full mastectomy
1998
FDA approves Tamoxifen
for breast cancer prevention, thanks in part to Ellis Fischel clinical trials
2000s
2000
MU reactor releases TheraSphere
to carry radiation to the liver
2000
MU receives $10 million grant
from NCI to establish premier center for developing radiopharmaceuticals
2004
Ellis Fischel is designated as the state's official cancer center
2004
FDA approves first anti-angiogenic drug,
bevacizumab, to block growth of blood vessels tumors need to grow
2006
FDA approves Gardasil
vaccination against HPV and becomes available at Ellis Fischel
2008
Ellis Fischel adds Trilogy Tx linear accelerator
2009
FDA approves Ceravix,
the second vaccination of HPV and becomes available at Ellis Fischel
2010s
2010
FDA approves first cancer treatment vaccine
that uses a patient's own immune system and becomes available at Ellis Fischel
2012
Ellis Fischel adds 3D mammography
to screen for breast cancer
2013
MU researcher receives national medal of science
Frederick Hawthorne, PhD, receives award for developing boron neutron capture therapy for cancer patients
2017
First gene cancer therapy,
chimeric antigen receptor modified T-cell (CAR-T) causes complete remission for majority of young patients with acute lymphoblastic leukemia (ALL)
2018
Cervical cancer breakthrough
MU School of Medicine researchers discover combining blueberry extract with radiation can increase the treatment's effectiveness for cervical cancer