At MU Health Care, we're constantly exploring new ways to give our patients the best care possible, and we're excited to be bringing one of our long-term visions to life: a centralized hospital campus in Columbia.
By moving our women's and children's services from Women's and Children's Hospital on Keene Street to our central campus in Columbia, our ability to deliver what's most important to patients will be made even stronger, including:
Easier access to doctors that specialize in the care they need​
A more streamlined experience, with less time and distance between appointments​
Better care coordination across specialties​
Better access to state-of-the-art equipment and technology
An integrated campus gives us the ability to expand in a way that not only meets the current needs of our growing community, but future needs as well.
The vision
We are proud of the impact our Women's and Children's Hospital has had on mid-Missouri, and we're excited to expand on that legacy in our centralized location. ​Rest assured: The building might change, but our commitment to providing the highest level of care for women, children and their families will not.
The centerpiece of the integration will be our new hospital tower with space dedicated to the unique needs of women and children.​ The new tower is being built at the east end of University Hospital, between Ellis Fischel Cancer Center and University Physicians Medical Building.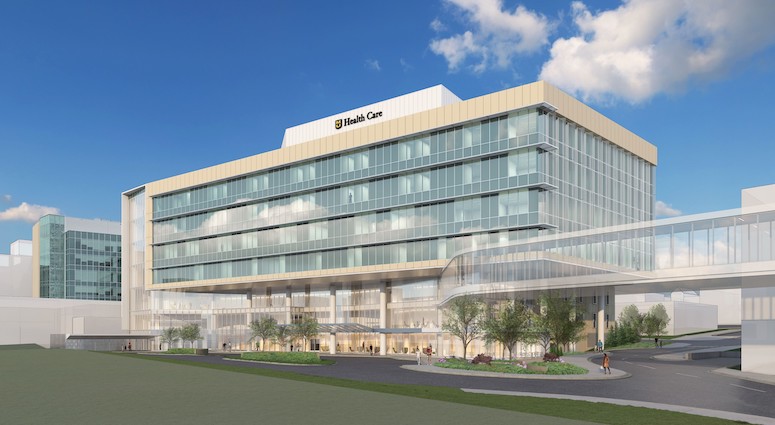 With collaboration made easier and more efficient through this centralized campus, we'll be able to offer even more excellence across our three pillars of care, research and teaching. The new hospital tower is in close proximity to the NextGen Precision Health building, which will support a systemwide precision health initiative that aims to accelerate medical breakthroughs for patients in Missouri and beyond.
The timeline
Our campus integration will happen in phases over the next few years, with some specialties moving as soon as fall 2021 and a projected finish date of summer 2024.
Our goal is to make this transition as seamless as possible for patients. As we start to move services and specialties over to the central campus, we will notify patients of changes to provider locations and appointments.
We want our patients' efforts to be spent getting and staying healthy, not navigating a complicated health system. That's why we're creating a centralized hospital campus for streamlined appointments and better coordinated care.
Return to this page for updates on our progress.