Our mission is to provide an evolving and dynamic education and training program to new and existing EMS and Allied Healthcare Professionals that meets and exceeds the current standard of care.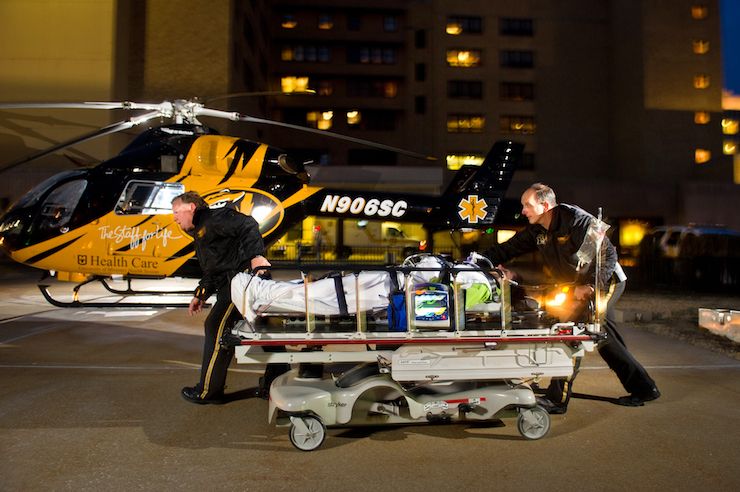 Courses
All classes are located at the Woodrail Education & Training Center (unless otherwise indicated)
1000 W Nifong, Bldg. 5, Suite 100
Columbia, Missouri 65203
All EMS Education students are required to have computer and internet access. Additional Fees May apply for online programs. Course dates, times and locations subject to change.
Paramedic Program Outcomes
| Exam and Pass Attempt | 2015 | 2016 | 2017 |
| --- | --- | --- | --- |
| NREMT CBT - pass first attempt | 80% | 86% | 77% |
| NREMT CBT - pass within three attempts | 100% | 100% | 92% |
| NREMT Psychomotor exam | 100% | 100% | 100% |
| Retention | --- | --- | 72% |
Calendar
Important: After submitting your completed application, email EMSEducation@health.missouri.edu to schedule your entrance exam or call 573-882-8018.
Course Documents
Contact
Questions? Don't see the course you're looking for? Please call 573-882-8018 or email EMSEducation@health.missouri.edu
Christy McCloud
Program Director
EMS Education – University Hospital
mccloudc@health.missouri.edu
573-884-5277 (phone)
573-884-5410 (fax)
Student Transcripts
MU Fire and Rescue Training Institute 573-882-4735, MUFRTI
American Council on Education (ACE)
ACE's College CREDIT recommendations Service evaluates and makes credit recommendations for formal educational courses sponsored by non-degree granting organizations.
The Emergency Medical Technician (EMT) program has been recommended for 9 semester hours in the vocational certificate or in the lower division baccalaureate/associate degree category.
The paramedic program has been recommended for 56 semester hours in the vocational certificate or in the lower division baccalaureate/associated degree category.
Statement of Nondiscrimination
The University of Missouri does not discriminate on the basis of race, color, religion, national origin, sex, sexual orientation, age, disability or status as a protected veteran. Any person having inquiries concerning the University of Missouri's compliance with implementing Title VI of the Civil Rights Act of 1964, Title IX of the Education Amendments of 1972, Section 504 of the Rehabilitation Act of 1973, the Americans with Disabilities Act of 1990 or other civil rights laws should contact one of the following:
Associate Vice Chancellor of Human Resource Services / Affirmative Action Officer
University of Missouri 
1095 Virginia Avenue, Room 101 
Columbia, MO 65211 
573-882-4256
Director of MU Equity/Title IX Coordinator 
University of Missouri, Memorial Union S303 
Columbia, MO 65211 
573-882-9069
Assistant Secretary for Civil Rights 
U.S. Department of Education
Preceptor Training
The EMT-Basic and Paramedic education programs cover all emergency medical concepts and techniques currently considered to be within the responsibilities of the EMT-Basic and Paramedic providing emergency care in a pre-hospital setting as set forth by the Bureau of Emergency Medical Services of the State of Missouri. These programs meet or exceed course requirements established by the U.S. Department of Transportation and the Missouri Bureau of Emergency Medical Services. The education program will also cover topics related to the future trends and care methodologies in emergency medicine.
Keep Hope Alive
"Keep Hope Alive" is an educational training program initially developed by Sierra Donor Services. The Institute provides contact hours for those completing training. The video training program and contact hours are available at no cost to participants. After successfully completing the program, DHSS submits information to the Institute who issues the contact hour. This training and contact hour is another way for EMS personnel to maintain Missouri licensure.