Eating schedules can be less structured during the summer months. Breakfasts and lunches are no longer built into the school day, leaving parents scrambling to ensure their kids eat three square meals.
Often, time-strapped families will turn to fast-food restaurants and quick-prep meals out of convenience. But healthy eating in the summer isn't as elusive as it might seem.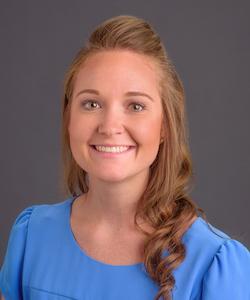 "Summer is such a great season for healthy eating in Mid-Missouri because fresh produce is everywhere," said Michelle Bauche, a registered dietitian with MU Health Care. "Even if your agenda feels full, try to prioritize family trips to grocery stores, farmers markets and pick-your-own produce farms to stock up on healthy ingredients. Then, devote a night or two every week to preparing meals and snacks in batches that can be stored for later."
Bauche said that meal prep is an underused strategy to reduce unhealthy snacking and last-minute trips to fast-food restaurants. Meanwhile, family outings to farmers markets offer kids positive experiences around healthy food, which helps picky eaters feel comfortable trying unfamiliar fruits and vegetables.
"Sometimes it can take 15 to 20 exposures to a new food before kids really decide to try it," said Bauche. "That may seem like a lot, but keep in mind that not all of those exposures have to be through taste. Kids can learn a lot from just seeing the food, feeling it, smelling it and talking about it with their family."
Dish Up These Healthy Foods
Bauche said families should add these five healthy foods to their shopping lists this summer:
Blueberries. Use blueberries to make a large batch of fruit-and-yogurt parfaits the family can eat for breakfast all week. Also, throw a handful of them into a half-cup of low-fat cottage cheese for a tasty summer snack.

"These tiny berries make up for their size in nutrition," Bauche said. "Three-quarters cup has only 15 grams of carbohydrate, making them a wise choice for people with diabetes or pre-diabetes."

Zucchini. Bauche called fresh zucchini "the definition of versatile."

She recommended slicing the vegetable into strips with a peeler and topping it with fresh lemon juice and crumbled cheese to make a simple salad. She also suggested adding it to pasta sauces, pasta salads and casseroles. Or, cut it lengthwise and grill it for a few minutes to create an easy, healthy side dish.
 
Lentils. Add lentils to a large batch of pasta salad or use them to create lentil burgers. Gradually introduce lentils into the family's diet by making half-and-half burgers or tacos — half ground beef, half lentils.

"Lentils are the secret to protein-packed meat-free meals," Bauche said. "A half-cup of them has nine grams of protein and a whopping eight grams of fiber."
Fish. The USDA recommends adults eat at least 8 oz of seafood per week, so incorporate fresh fish into meals or even snacks.

"Fish pairs wonderfully with the abundance of fresh produce and herbs that emerge in the summertime," Bauche said. "Tilapia, cod and halibut are mild-flavored fish that beg for marinades, while salmon and tuna are readily available fish that are rich in heart-healthy fats."
 
Lemon. Squeezing fresh lemon juice atop summer dishes — especially fish — is a healthy way to add extra flavor. Lemons have barely any calories or fat, and they are packed with vitamin C.

"The power of fresh lemons is home cooking's best-kept secret," Bauche said.