Every March 1, Missourians gather in the predawn darkness at the state's trout streams, wade into the cold rushing water and wedge themselves into shoulder-to-shoulder formations with their fellow fishing enthusiasts.
They grip their fly rods, waiting for the 6:30 a.m. siren that signals the start of another trout season. When the siren sounds, thousands of fishing lines launch simultaneously … and often cross paths in a web of chaos.
Willis Richmond, 63, a medical technologist from Harrisburg, Missouri, prefers to play the waiting game. He holds back as the siren sounds. Then, while the others are untangling their lines, he casts and enjoys five or 10 minutes of peaceful fishing.
While playing the waiting game helps during trout season, Richmond discovered that it wasn't the best strategy for dealing with his knee pain.
Richmond grew up playing sports and took the phrase "no pain, no gain" to heart. As an adult, he enjoys hunting, fishing and anything that keeps him outdoors. It wasn't until he was volunteering as a lacrosse referee that he realized the effect pain was having on his life.
"I started to notice that I was slowing down," he said. "I was taking pain medication before I got out of bed, then before and after games. As an official, you run up and down the field for two to three hours a day. Mentally I was there, but physically I could no longer fulfill the requirement."
His daughter, Michelle, took notice of his decline and encouraged him to visit a doctor. That's when he met with James Keeney, MD, an orthopaedic surgeon specializing in total joint replacements at MU Health Care's Missouri Orthopaedic Institute.
The cartilage in Richmond's left knee had deteriorated badly, leaving him with bone-on-bone contact. His right knee maintained only a shadow of cartilage. He would need two knee replacements.
Few hospitals perform bilateral, single-anesthetic surgery, but Keeney believed solving both problems at once was the best solution for Richmond.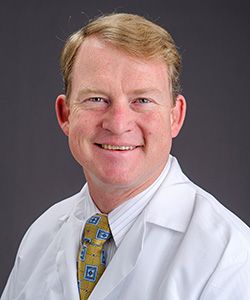 "The benefit is you're only having the operation done one time," Keeney said. "If you have bad arthritis in both of your knees and they're equally bad, it's difficult to decide which one you should have done. An alternative is to have them both done in the same setting."
Richmond decided to spend more time thinking about it. On a fishing trip, a friend noticed him wincing while walking to the truck.
"I thought if my buddy can even notice, it must be bad," he said. "It was getting harder and harder to do things. I decided it was finally time to get it taken care of."
At Keeney's request, Richmond did preoperative therapy to improve both his hip and knee strength before the operation in July 2018.
"Part of the approach that I do for the knee surgery is a muscle-sparing approach to the knee," Keeney said. "By doing this, the recovery's not as hard, because you have muscles that can be activated right after the operation. It doesn't take three or four days to get the muscle working on both of your knees. That was a game-changer in my approach to do a bilateral, single-anesthetic surgery."
Richmond felt comfortable working with Keeney from the beginning.
"If you have confidence in your doctor, you'll have a better outcome," he said. "Dr. Keeney makes you feel like you're the most important thing at that moment and gives you information that's short and concise. He's very professional and speaks to your level."
After surgery, Richmond was eager to get back to his active lifestyle. He threw himself into his outpatient physical therapy with a regimen of walking up and down the sidewalk outside of his country home several times a day. His cat, Tiger, followed close behind.
With a goal of fishing in mind, he continued to take it one step at a time.
Only six weeks after surgery, he bent his knee to a 120-degree angle, which exceeded the national six-month postoperative goal of 116 to 118 degrees.
Today, he's back to trout fishing and is grateful that he finally took steps to manage the pain.
"After 20 years of pain, I'm 100% pain-free," Richmond said. "Now I'm fishing standing up and doing everything without needing to sit and rest. Before I used to need to quit early because of my pain."
Richmond has advice for others in pain that continue to play the waiting game.
"The sooner you have it done," he said, "the sooner you're going to recuperate and the sooner you're going to be back and working."