Donald Fues, 75, enjoys discovering new places and meeting people. If you throw a dart at a map, chances are it will land on a place he visited. The retired accountant has climbed Machu Picchu, walked through the streets of Paris and explored the ruins of Rome.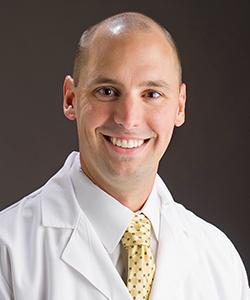 When chronic pain in his ankle threatened his ability to travel, he made an appointment with Kyle Fiala, DPM, at MU Health Care's Missouri Orthopaedic Institute. X-rays revealed that arthritis had eroded the cartilage in his ankle, creating bone-on-bone contact.
"He had a long-standing pain in his ankle that developed gradually over time," Fiala said. "He had multiple sprains in the past, and that likely set him up to have the development of arthritis later in life."
Fiala initially started Fues on a series of nonoperative treatments such as injections, anti-inflammatory medication, therapy and a brace. Those worked for a while, but the pain eventually returned. It was time to discuss long-term solutions.
"I told him that I enjoy traveling, and walking is involved, and it wasn't fun anymore," Fues said. "I wasn't ready to call it quits."
There are two main surgical treatments for ankle arthritis — fusion and joint replacement, also known as total ankle arthroplasty.
Fusion involves connecting the joints in the ankle, eliminating motion and pain in the ankle. This offers a permanent solution, but the procedure limits motion in the ankle, making certain activities, such as walking uphill, more difficult. Patients spend up to 12 weeks in a cast for recovery.
Replacement surgery involves adding an implant to restore a more normal range of motion. Patients spend a shorter time in a cast and are able to recover faster than fusions. The expected lifespan of the implant is around 10 years, so it is usually not recommended for younger patients. It is also not a good option for patients who are overweight or have other significant co-morbidities.
Given his age, activity level and slight stature, Fues was a great candidate for an ankle replacement. However, Fues was concerned that the recovery time for surgery would interfere with his travel plans.
He went on a trip to Kenya and wore a compression brace, but the pain was more than he could handle. That's when he knew it was time to have surgery. Fiala recommended a total ankle replacement.
Fues underwent a CT scan so Fiala could get a 3D picture of his ankle. Fiala then used the CT scan to make a custom guide, allowing for a more efficient procedure and a perfect fit.
"This method has been a game-changer for us," Fiala said. "We have had a tremendous success doing this procedure."
Fues had surgery in October 2017. Afterward, his pain level was low and he didn't need anything beyond Tylenol. Fiala put a cast on Fues' ankle, and for six weeks Fues used a knee scooter to avoid putting weight on it. For the next six weeks, Fues used a walking boot. Then he did six weeks of physical therapy to improve his balance and strength.
"The procedure went quite well. What they told me to expect is what happened," he said. "I've told many people since then that I recommend if you have the problem, take care of it. Trying to walk around with a bum leg or ankle doesn't work."
Fues meets with Fiala annually, and he shows no signs of slowing down. Since his surgery, Fues has traveled to Japan and Italy.
"We take trips where I walk for two weeks at a time every year, and I haven't had any noticeable problems with it," he said. "I don't have any regrets. I'm quite happy. I'd do it again in a moment's notice because I like to get around and not depend on people."