Most children love Halloween — the costumes, the candy, the fun games and parties. But for parents of children with allergies, Halloween can pose scary health risks that make every treat seem tricky.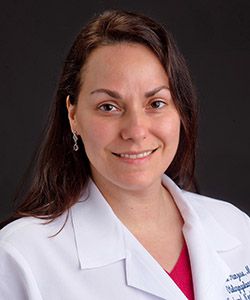 "Parents whose children have a skin or food allergy are always on alert," said Christine Franzese, MD, allergist with University of Missouri Health Care. "As we head toward Halloween, there are even more allergy triggers to watch out for and be prepared to handle."
Here are a few tips from Dr. Franzese to help you and your family have a safe and happy Halloween – even with allergies and asthma.
Choose costumes carefully to avoid latex allergies
Many costumes, masks, accessories and even Halloween make-up contain latex. Always check the tags and information on these items before purchase to ensure you avoid allergic reactions to latex. Also keep in mind that toys and balloons that may be given away as treats may contain latex.
Mind the treats with food allergies
Four percent of children have food allergies that can be extra frightening around Halloween. Many candies, even suckers, are made in facilities that process peanuts or other food allergens. Read all labels on your child's candy carefully and be clear with them that they shouldn't eat any candy without asking you first.
At your own home, you can participate in the Teal Pumpkin Project. The Teal Pumpkin Project means you offer food-allergen free treats at your home. Simply put a teal painted pumpkin out on your porch or walkway to signal other families with food allergies that you are an allergy-friendly home.
After trick-or-treating, have a candy swap so that your child can change out those nutty candy bars they are allergic to for safer treats. You could also purchase small toys or items so that your child can "trade" their candy for fun, safe items. Some doctor and dentist offices also offer candy swaps for toys or gift cards.
You can also make your own traditions and avoid trick-or-treating altogether. Instead, take the family to a scary movie or hold a neighborhood scavenger hunt that doesn't involve sweets.
Listen for frightening wheezes
Sudden scares in haunted houses or running around to get treats can put your child at risk of an asthma attack. If your child has mold allergies, all the little feet kicking up dead leaves can increase their risk for an attack, too. Many displays or haunted houses have smoking machine and fog effects will can also trigger an attack. Keep an eye on your child's breathing and consider what activities are safe. 
Be prepared while trick-or-treating
Always pack your child's rescue inhalers or epinephrine auto-injectors for Halloween parties or while trick-or-treating around the neighborhood. You never know when a reaction may occur, so be prepared.
Learn more
Get tested for environmental, skin and food allergies or learn more about controlling allergy symptoms from the experts at the MU Health Care ENT and Allergy Center or call 573-817-3000.