The first time George Rutherford ever sang in front of a crowd, he was a teenager at Nashville's Ryman Auditorium, home of the Grand Ole Opry. His family lived in Tennessee at the time, and his father heard on the radio that the Opry was holding open auditions. Rutherford decided to give it a shot.
Now 93, he still clearly remembers that night in the early 1940s when he sang "My Main Trial is Yet to Come" by Hank Williams. 
"I thought when I got up there to sing that there was a band that was going to help me out," said Rutherford, a Fulton resident. "When I looked around, I didn't see anyone, just a bunch of eyes in the audience. That felt like the longest song I ever sang in my life, but I got through it, and of course I got a hand. Everybody applauded."
Rutherford was hooked for a lifetime. He still loves to play his acoustic guitar and sing, especially alongside brothers Don, 82, and Doug, 77.
Before retiring, they all spent their weekdays atop utility poles as electrical linemen and spent their Saturday nights playing music. George was a founding member of a country band called The Missouri Wildcats. When Don finished his service in the Air Force in the early 1960s, he joined George's band and played bass. Doug got his start as a teenager playing guitar in The Rebel Rousers, a rock band that cut multiple records, including one that was recorded at the legendary Sun Studios in Memphis, Tennessee.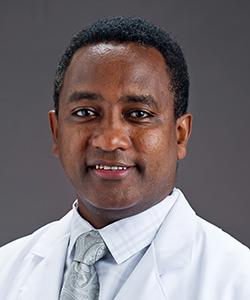 There is one more family tradition shared by the Rutherfords — back pain that interrupted their daily activities, including playing music. And just as they followed each other's footsteps up utility poles and onto stages, they marched one after the other into the office of MU Health Care spine surgeon Fassil Mesfin, MD, PhD, and found relief.
The root of the Rutherfords' problems was spinal stenosis, a common condition that usually affects people over 60. As the elder brother, George started feeling the pain first. He lived with it for more than a decade before he went to see Mesfin in 2017.
"As we age, we have degeneration of the spine, mostly in the lower back, which is called spinal stenosis," Mesfin said. "That's a closing of the spinal canal. In the process, our bodies start compensating to keep that opening wider. George used to walk leaning forward, which would open up the spinal canal. That's a typical sign."
The first treatment option is physical therapy to strengthen the core muscles that support the spine. Medication or injections can help in some cases. None of those treatments brought George relief, so the best option was surgery.
"It's a classic surgery called a decompressive laminectomy," Mesfin said. "What we do is go in the back and detach the muscle from the spine. We create more room by taking out what's called the lamina — the bony structure on the back of our spine — and taking out the calcified bony ligament to create more room. We're going from a very tiny spinal canal, and we double or triple the size so the spinal nerves are completely free. Once we decompress the spine, we reattach the muscle and close the wound."
After George woke up, he was able to stand up straight and walk down the hall.
"I don't have any pain now," George said. "I can walk. If I wasn't the age I am, I suspect I could run."
Don, an Ashland resident, saw his brother's improvement and made an appointment with Mesfin. He had surgery in 2019.
"I said, 'I want to get me one of those,' and it worked," Don said. "Ol' Doc, he's excellent. Good doctor, and he's a fine person, too."
Doug, who lives in New Bloomfield, was next in line. He had surgery in 2020.
"I got out the next morning, and it was like night and day," he said. "I was instantly better."
They've all been able to get back to doing what they love. On a January day, the Rutherford brothers got together again at the house of George's daughter Rebecca Stafford in Fulton. They took turns telling stories about their families, careers and music.
For about as long as there has been electricity, there has been a Rutherford on a pole. The line began with their grandfather — who worked from the back of a horse-drawn cart in Knoxville, Tennessee — and it continues today with Doug's son, Rance. They all had a tale from The Johnson Inn, a rowdy but romantic dance hall east of Fulton where their bands played regularly. There were regular fistfights during their shows, but it was also the place where Doug met his wife, Shirley.
When the Rutherfords were done talking, they sat in front of a crackling fire, picked up their instruments and lifted their voices. The audience was less than a dozen — a long way from the Grand Ole Opry — but the band of brothers was still making beautiful music.