On Nov. 19, 1973, John Cleek's father died in a plane crash on his way home from a Missouri football game at Iowa State. That meant Cleek, who was just 23 years old at the time, was suddenly in charge of running the family's appliance and home furnishings store.
He had a lot to learn, but he was sure of one thing: He would carry on his father's tradition of predicting the scores of Missouri football games and posting them in the window of his store and the pages of Columbia's newspapers.
Since then, Cleek has grown the business to include five locations in mid-Missouri. He's become a local celebrity who is greeted by strangers with the catchphrase he made up on the spot during the taping of a commercial in early 1990s: "No deposit, no credit, no NEEEED for a loan!" And he's forecast Missouri to win 555 consecutive football games.
"If the Tigers would just follow his predictions, we'd be national champions every year," joked his son, John Cleek Jr.
Optimism, even in the face of long odds, is the hallmark of the man known to all as "Tiger John." That attitude has sustained Cleek since he was diagnosed with amyotrophic lateral sclerosis (ALS) in June 2020. The condition — also known as Lou Gehrig's disease — attacks the motor neurons that allow the brain to communicate with muscles. Patients with ALS gradually lose the ability to use their muscles. There is no cure.
The disease has taken a toll. Cleek can no longer walk and speaks in a whisper. He knows what he's up against, but he has no intention of giving up.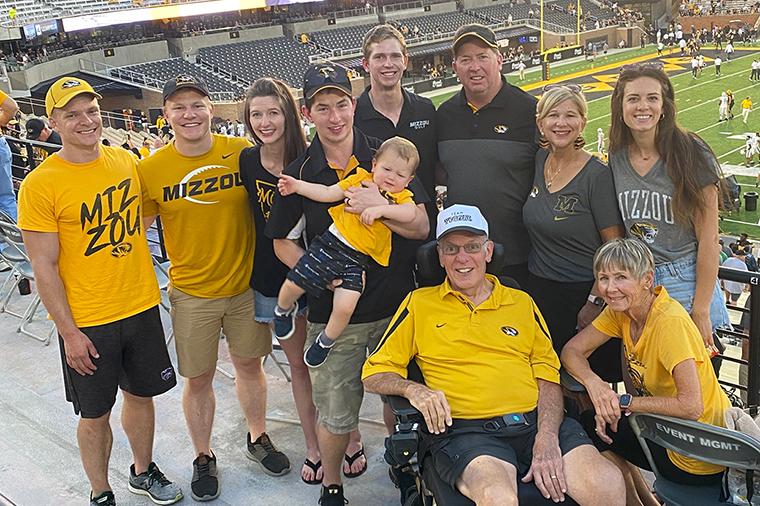 "I'm a fighter," Cleek said. "I'm not a quitter."
Cleek found a partner in his aggressive fight against ALS in Richard Barohn, MD, who has spent 35 years treating people with the disease and researching new approaches to treatment. Barohn is a neurologist in MU Health Care's ALS clinic, which also includes a physical medicine and rehabilitation physician, an ALS nurse specialist, a physical therapist, an occupational therapist, a speech therapist, a dietitian and a social worker. They all help patients maintain the best possible quality of life at every stage of their illness.
Cleek has benefitted from the expertise of each of those experts. There are currently only two FDA-approved drugs to slow the effects of ALS, and Cleek is taking both. He also enrolled in a clinical trial offered by MU Health Care.
"We don't want anyone to get the diagnosis of ALS, but if someone does, they can get world-class treatment at the University of Missouri," Barohn said. "We have it all right here, including research trials. I'm very proud of the team we have here, and I'm also very proud that Tiger John wants to have me as his personal doctor."
The Cleek family has turned its attention to motivating its wide network of friends and fellow Mizzou fans to raise money for ALS research. In August, they participated in a fundraising walk that netted more than $82,000 for The ALS Association. At Missouri's final home football game of the season against Florida on Nov. 20, Cleek was honored and fans were encouraged to contribute to ALS research by texting TigerJohn to 91999.
"He's such a positive guy, and this is the test you never think you'll have, but he has it," said former Mizzou football coach Gary Pinkel, a longtime friend of Cleek's. "This is very difficult for him and his family, but he is going to do something to make the best of it. The beauty of that guy is, probably what he's doing right now to raise money is not going to be significant for him, but he knows it's going to be significant for some other person down the road."
Cleek said he has accomplished more professionally than he ever could have imagined back when he took over the business. What he hopes to gain from his treatment is quality time to spend with his family. That includes his wife, Ann; John Jr.; three grandchildren and a great-grandchild. He'll keep fighting for more chances to surround himself with Cleeks and enjoy family traditions and Tiger football victories.
"Dad's going to do everything he can to prolong his life," said John Cleek Jr., "and hopefully, one day, they will find a cure."