Kathryn Lee is usually on her feet. It's not just the six grandchildren and four great-grandchildren who keep her busy — she loves to cook, do community service in Columbia with the Order of the Eastern Star and volunteer at a local daycare center.
"I'm trying to stay on my feet because I was always told, 'If you give up, you give out,'" Lee said. "And I'm not ready to do either one."
Lee's busy schedule distracted her from a problem she noticed early last year. She tried to ignore until it became unbearable.
"I was having problems expelling my waste. It was painful," Lee said. "And then it started to bleed. My husband had to drag me to the doctor because I wasn't going."
Lee's primary care doctor scheduled her for several tests, including a CT scan of her digestive system. When Lee returned to her doctor for the results, the news wasn't good.
"He told me it was cancer," she said.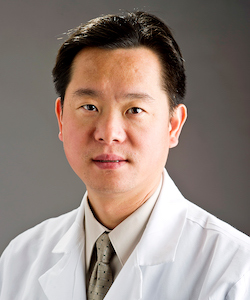 Lee's doctor referred her to MU Health Care's Ellis Fischel Cancer Center. Colorectal surgeon Zihao Wu, MD, closely evaluated the tumor before presenting Lee's case to the team of oncologists, surgeons and other specialists who came together and developed a personalized plan for her treatment.
"The tumor invaded into the bladder and small intestine," Wu said. "A tumor that large becomes difficult to remove. During my meeting with my multidisciplinary team, we recommended giving her chemotherapy to shrink tumor prior to surgery."
Wu said it's uncommon to give patients chemotherapy before colon cancer surgery. But he and medical oncologist Jaffar Hilli, MD, thought it would offer the best chance of completely removing Lee's tumor while sparing her nearby organs.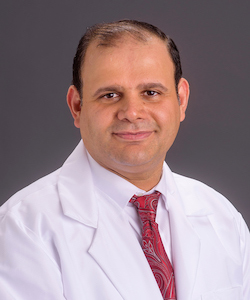 "By giving chemotherapy, you shrink the tumor and get it away from other structures to avoid removing parts of other organs," Wu said.
Wu performed a surgery in April 2019 to create a diversion colostomy to ease Lee's pain caused by the digestive blockage. Then she completed six rounds of chemotherapy under Hilli's care.
By August, the chemotherapy had shrunk the tumor. Wu scheduled Lee for a 10-hour surgery to remove the cancerous small bowel and part of her bladder.
A crowd of more than two dozen family members waited anxiously at the hospital during the surgery. Wu was surprised by the large gathering, but Lee said he put them at ease.
"Most colon cancers do not have symptoms until they are late-stage," Wu said. "In Kathy's case, the tumor was advanced and invading other organs. But it had not spread to distant parts of the body."
As a precaution, Lee's team of doctors at Ellis Fischel prescribed six additional rounds of preventative chemotherapy to kill any remaining colon cancer cells left in her body. She finished her final round of chemo on New Year's Eve.
"I've been doing pretty good ever since. I haven't been sick. I lost a little weight, thank goodness. I had a great support system with my husband, family, church and friends. Even my enemies came up and told me they were praying for me," she said with a laugh.
Lee said she learned an important lesson from her ordeal. Don't fear or avoid preventative screenings.
"I tell people not to be afraid," she said. "It's not as bad as you think it is. You reach a certain age when you need these tests. Do them before it's too late. It was almost too late for me, but not quite."
Wu recommends a colonoscopy for anyone 45 and older who has a normal risk for colorectal cancer. Those with a higher risk, including African-Americans, should begin testing sooner.
"We just take for granted that we are doing well," Wu said. "But it's important to do screenings. So if Kathy would have had the colonoscopy at the age of 50, and regularly, she might not have had this colon cancer."
There are other steps you can take to help prevent colorectal cancer, including avoiding or quitting smoking, avoiding excessive alcohol, getting regular exercise and eating more fiber and green vegetables.
Lee plans to stay active in 2020 and beyond. During a recent visit to the Columbia Public Library, she hustled to keep up with her 2-year-old great-grandson who ran from activity to activity.
"Everything is so beautiful to me now because I could have lost all of this," she said. "Every morning I wake up, I am thankful."