Whether you're getting children ready for school in the morning or just want a healthy breakfast you can grab on the go, Ashley Ritzo, RD, a clinical dietitian at MU Health Care, recommends breakfast bars that are full of fiber and protein. Ritzo modified this recipe from the Happy Healthy Mamma Blog.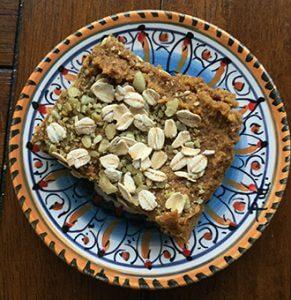 Ingredients
1 can (15 ounces) chickpeas, drained and rinsed
1/2 cup dates
1/2 cup whole almonds
1 cup rolled oats
1/2 cup pumpkin puree 1/4 cup maple syrup
2 tablespoons coconut oil
1/2 teaspoon baking soda
2 teaspoons baking powder 2 teaspoons vanilla
1 1/2 teaspoons cinnamon
Toppings:

1/4 cup rolled oats
1/4 cup pumpkin seeds (pepitas)
Instructions
Soak 1⁄2 cup almonds in water for about 1 hour to soften and make them easier to blend.
Preheat the oven to 350 degrees. Line an 8X8-inch pan with foil and coat the foil with nonstick spray. Wrap the edges of the foil over the side of the pan.
Put soaked almonds in food processor or blender first and process until finely ground. Next, add all other ingredients and blend until smooth.
Scoop blended mixture into the prepared baking pan and add toppings. Bake for 15 minutes.
The foil should come right out of the pan and bars can be stored wrapped in the foil in the refrigerator for up to 3 days.