Patients at University of Missouri Health Care's Ellis Fischel Cancer Center have access to the most innovative cancer treatments. One of the promising new advances is immunotherapy, a treatment in which the body's own immune system is activated to fight cancer.
Because immunotherapy is continually being studied by physician-researchers at academic health systems such as MU Health Care, more immunotherapies are becoming available to patients.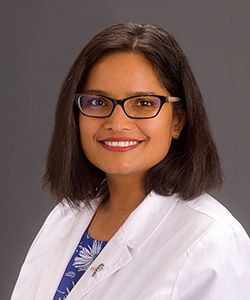 Sindhu Singh, MD, medical oncologist at Ellis Fischel, said recent advances have dramatically affected what she and her colleagues can offer patients.
"We're actively treating patients with immunotherapy drugs from many different cancer sites now," Singh said. "We're even able to treat some Stage 3 cancers, which is very new."
Singh said immunotherapy treatments are now available for Ellis Fischel patients with bladder, cervical, colorectal, gastrointestinal, head and neck, kidney, liver, lung, lymphoma, melanoma, multiple myeloma and skin cancers. 
When a new immunotherapy drug is approved by the Food and Drug Administration, Ellis Fischel physicians can begin using it to treat patients. Ellis Fischel patients also have access to immunotherapy clinical trials. These give patients early exposure to a treatment that might work for them. 
"The great thing about immunotherapy is this is the only treatment that can lead to a cure in many Stage 4 cancers, where surgery or radiation cannot be used to control the disease," Singh said. "There's a higher percentage of complete remission compared to other treatments, such as targeted therapy or chemotherapy."
Singh outlined four potential benefits of immunotherapy as a treatment option. 
It can work when other methods don't: Sometimes a cancer won't respond to chemotherapy or radiation, but it will respond to immunotherapy.
Combination therapy: Using immunotherapy in combination with another treatment such as chemotherapy or targeted therapy can work when a single method fails. 
Patients might have more time to try new, successful drugs: Because immunotherapy drugs are being approved regularly, new treatments are available to patients every few months. This can give patients without other options extra time – even three or six months – until the next big breakthrough is available. 
Patients may experience fewer side effects: Because immunotherapy only targets your immune system, you might not experience as many side effects as other treatments. Some of the more common side effects from chemotherapy — such as nausea, vomiting, mouth sores or hair loss — might not occur with immunotherapy. 
"Our patients who are being treated with immunotherapy are seeing a good response," Singh said. "Here at Ellis Fischel, we're building the foundation of immunotherapy as a standard of care."