Sandra DeWitte has spent more than 40 years in health care, so she knows a positive — or negative — medical encounter when she experiences one. The Sunrise Beach woman moved to mid-Missouri from Arizona after a career in hospital compliance, coding analysis and education, and clinic coordination. She recently began seeing providers at MU Health Care.
"I have always been strong on patient care, and patient responses and their feedback," she said. "I believe patients' opinions are valued by the staff, and that makes a big difference, too. I think it's important for employees to get a little praise from time to time, because they definitely deserve it."
In a recent patient satisfaction survey detailing one of her visits, DeWitte gave high praise for the medical staff she visited at the Fairview General Internal Medicine Clinic.
"I would have no hesitation whatsoever recommending any of MU's medical facilities," DeWitte said. "I know that a patient will be respected and well cared for here."
For Kevin Gwin, this is exactly the kind of feedback he wants to hear.
Though the chief patient experience officer is a new position at MU Health Care, Gwin is anything but new to improving the patient experience. He joined the health system in May after a career in culture transformation at health systems across the country. He also brings experience from the automotive industry after a stint at Nissan.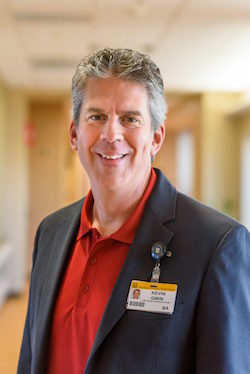 His task at MU Health Care: gathering and responding to patients' feedback, preferences and ideas to provide the best patient experiences.
"Providing the best possible experience for our patients is simply the right thing to do," Gwin said. "By listening to our patients, we can gather insights to make their personal experiences in our hospitals and clinics even better."
Through patient satisfaction surveys and feedback forms, Gwin receives comments from hospital and clinical visits to MU Health Care. He knows that the care here is top-notch, and he wants that experience to translate into loyalty toward MU Health Care.
"We touch people in a very personal way and are there for them even when the outcome may not be favorable," he said. "We're there for them clinically, but we also fill an important emotional space when they're here with us. My role is to translate those experiences into patient loyalty. If we can provide the best experience each time our patients visit us, with our breadth of specialty treatments available here, they won't need or want to get their care anywhere else."
DeWitte is not going anywhere else for her care. It's small, but meaningful, actions that make MU Health Care her new medical home.
"One thing I was very appreciative of is how the staff arranged three different appointments on one day without a big time lag between appointments," she said. "When you're coming from out of town, that is very, very helpful. Everyone — the medical staff, the greeters, the people at the registration desk — has such a pleasant attitude. That just makes you feel good."
While he is new to MU Health Care, Gwin knows that this collaboration is key to creating an environment that produces loyalty.
"It's all about collaboration," he said. "There's a big piece that's all about data collection and analysis, but you have to go out and talk to people. From there, it's all about collaboration — working with physicians, working with nurses and staff in the clinics or hospitals and helping them hear the voice of the patient, and then making behavioral changes or making process changes."
When he rounds with providers and front-line staff, Gwin encourages them to put themselves in the patient's shoes and to take an outsider's perspective.
"As health care workers, it's easy for us to take patients' experiences for granted," he said. "But if we step back and take an outsider's perspective, we can identify obstacles or processes that can get in the way. We'll be able to align ourselves to our patients' preferences to help them embrace their care moving forward."