As a high school student in Cole Camp, Missouri, Kimberly Nease had already planned her future. She would pursue a degree in child development and spend her days taking care of young children. But her future was put on hold when she began having unexplained seizures in June 2012 at age 15.
"I remember going to sleep and waking up to doctors asking me questions, like who the president was and what my parents' names were," said Nease, 22. "My brother had called 911, and I was admitted to the hospital without even knowing it."
Nease sought treatment in Sedalia and Kansas City and was put on medication. Unfortunately, the pharmaceutical company stopped making the drug, and she began having seizures again. After researching specialists online, Nease's dad made an appointment with Susanta Bandyopadhyay, MD, PhD, a seizure expert, at University of Missouri Health Care.
"I saw four other doctors before Dr. Bandyopadhyay, and some of them thought I was faking seizures to get attention," Nease said. "From the moment I met him, I felt like he actually cared about me."
Bandyopadhyay diagnosed Nease with epilepsy in 2014 and started her on two seizure medications. The seizures, her primary symptom, are known as focal seizures. They originated from her left temporal lobe and caused abnormal behavior, such as blank stares or a repeatedly moving hand. Nease had one or two of these seizures per day, interrupting her collegiate goals of working with children.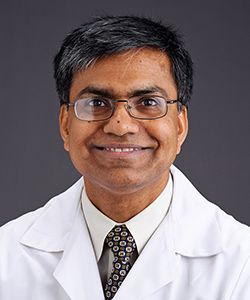 "You can think of repetitive seizures — a disease known as epilepsy — as an electrical storm," Bandyopadhyay said. "The brain works by networks of nerve or brain cells, and when it becomes overactive, neuronal networks don't work properly, and that's when somebody is having a seizure."
Bandyopadhyay said when patients fail to respond to two appropriate medications, their condition is considered drug-resistant epilepsy, and physicians should consider a higher level of care. Because the medications weren't working for Nease, Bandyopadhyay identified her as a candidate for surgery.
MU Health Care is mid-Missouri's only Level 4 epilepsy center, as designated by the National Association of Epilepsy Centers. It provides patients with the most advanced care, from diagnosis to surgery. Bandyopadhyay asked Nease to undergo a complete evaluation to understand the cause of her seizures and the best way to improve her quality of life.
"We have an epilepsy patient management team that meets to discuss what we can offer to each of our patients," Bandyopadhyay said. "This room of experts — epileptologists like me, neuroradiologists, neurosurgeons, neuropsychologists and more — meet together to discuss each patient and consider which part of the brain is affected, what functions might be affected with surgery and if it's in the best interest of the patient to undergo surgery."
Nease agreed to the lengthy assessment.
"I was sick and tired of having one too many seizures," Nease said. "We knew I was drug-resistant, and I didn't want to continue increasing the dosage of my medication."
In December 2017, she underwent an electroencephalogram (EEG), high-resolution MRI and PET imaging. She also had a neuropsychological assessment. Bandyopadhyay found that Nease had been born with an abnormality known as cortical dysplasia in which the top layer of her brain didn't form properly in one area.
"Our team felt removing the portion of her brain that was triggering the seizures would be beneficial to her and improve quality of life," Bandyopadhyay said. "We often worry about what will be impacted when we remove a portion of the brain — a patient's memory, movement disorders, speech and language functions — but this was not the case for Kim."
Nease decided she wanted to have the surgery, an anterior temporal lobectomy, in February 2018. Her neurosurgeon removed 4 centimeters of the front part of her temporal lobe. She was able to go home after a few nights in the hospital and was back to normal within a few weeks.
She's only had a few seizures since the surgery and is enjoying her life as a college student.
"Thanks to Dr. Bandyopadhyay and his team, I was able to go back to school and am now in my junior year," Nease said. "It's a relief to be able to go to class without fearing a seizure and be able to take care of children now."