On any given day, clinics at the Missouri Orthopaedic Institute are bustling with patients seeking expertise and care for their bone and joint issues. Soon, the health professionals who treat patients will work alongside researchers in an innovative laboratory on the building's fourth floor to develop the newest generation in treatments.
"It truly will be a one-of-a-kind laboratory right in the heart of the clinical orthopaedic center," said James Cook, PhD, DVM, director of the Orthopaedic Research Division at MU.
In May, the Thompson Foundation, created by William and Nancy Thompson, pledged $3 million to the University of Missouri School of Medicine to create the Thompson Laboratory for Regenerative Orthopaedics.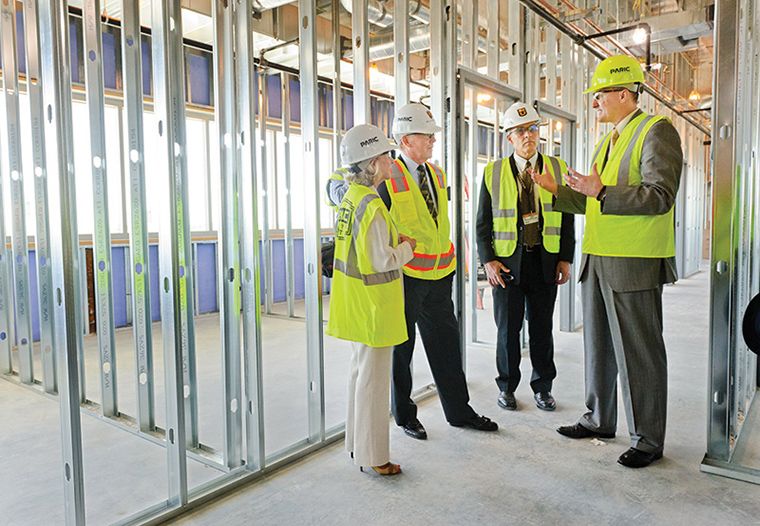 "Since our days at Mizzou, Nancy and I have been fortunate to meet some of the exceptional academic, medical and research talent within the university," said Bill Thompson. "When Drs. Hal Williamson, Jim Stannard and Jimi Cook told us of their exciting plans for future discovery and innovative treatment in regenerative orthopaedics, we jumped at the chance to invest in their cutting-edge work. It has the potential to benefit the lives of countless people, young and old."
Cook and James Stannard, MD, medical director of the Missouri Orthopaedic Institute, conducted recent research into regenerative orthopaedics. Their discoveries led to the development of a better method to store donor tissue, and improved procedures for repairing torn knee ligaments and other joint injuries. Cook and Stannard lead the Mizzou BioJoint Center at the institute — the first and only center of its kind in the nation.
"This amazing gift will create a center of discovery, translational and transformative research, and clinical applications," Cook said. "It will set Mizzou apart in this burgeoning area of medicine. Because the Thompsons have provided this incredibly unique opportunity for us to create a world-class laboratory right in the heart of our clinical orthopaedic center, we will be able to more efficiently and effectively improve health care."
The Thompsons' hope for this gift is to boost the scope and quality of care at the Missouri Orthopaedic Institute.
Stannard believes it will happen.
"This gift is a game-changer," Stannard said. "We can go from very good to great. That's an elite jump that only a very few can make."
The Thompsons are not new to supporting Mizzou's efforts to improve the health of individuals in Missouri and beyond. In 2005, their $8.5 million gift helped establish the Thompson Center for Autism and Neurodevelopment, now a national leader in the diagnosis and treatment of autism spectrum disorders.