About one in three people will be diagnosed with cancer. At University of Missouri Health Care's Ellis Fischel Cancer Center, our doctors and staff want to help you deal with the range of emotions and challenges that come with a diagnosis. 
Gynecologic oncologist Erin Tuller, MD, and Ellis Fischel social worker Christina Penn, MSW, LCSW, offer advice on how to cope after learning you or a loved one has cancer.
Understand the diagnosis 
Hearing the word "cancer" can cause many emotions. Understanding your diagnosis and treatment plan can help ease any anxiety. Patients often tell Tuller they've researched their disease online, but she advises them to ask her questions.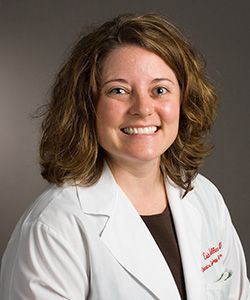 "Every patient and every cancer diagnosis is different, and your physician will know all the details about you and your cancer that make it unique," Tuller said. "The internet doesn't know those details, so you may get inaccurate information if you are searching for answers that way."
Hard as it may be, don't worry about what is going to happen months into the future.
"Get each test or surgery or step in treatment completed," Tuller said. "It's OK to ask all the questions about what to expect over the coming months, but once the plan is in place, just focus on taking each day as it comes."
Turn to family and friends
Every patient comes to terms with a cancer diagnosis at a different pace. Many patients feel fear and anxiety. Tuller recommends relying on support from family and friends. 
"Patients who have close relationships with their families cope better, as they tend to have more support at home for the times when they aren't feeling well," Tuller said. "For patients who don't have close family nearby during treatment, they can cope better if they involve friends or church members in their office visits and treatments."
Ellis Fischel also provides resources when they're needed most. Our social workers and palliative care team members can help patients process their feelings, provide additional support and help with referrals to other specialists. 
Stay hopeful
Tuller stressed it's important to maintain hope throughout cancer treatment, even if the diagnosis is discouraging.
"Treatment options are constantly evolving, allowing us to offer patients new treatments or opportunities to participate in clinical trials," Tuller said. "I try to reinforce to patients that 'incurable' does not mean 'untreatable' and that we will do everything we can to give them both quantity and quality of life."
Rely on the care team
Our doctors and staff tout teamwork, and we have a big team. 
"Our social workers, dietitian, nurse navigators, patient navigators and a lot of other specialists within MU Health Care have a hand in treating our patients," Penn said. "Our physicians focus on the cancer, and they often make referrals to other specialists in our system, when needed, such as palliative care, cancer rehabilitation, neurology, etc."
We can help look for community resources such as transportation, paying rent and utilities. The financial counseling department can work with patients who are uninsured or underinsured. 
Physicians and social workers can also recommend support groups, individual counseling and psychiatric resources if they're needed. Emotional support is just as important as the treatment you or a loved one receive. 
What can loved ones do?
For family and friends of someone diagnosed with cancer, Penn offers a couple of tips to help ease the uncertain situation.
Designate someone to be the communicator. Give an update after each appointment or treatment. If that becomes too much, send out an overview once a week to help keep family and friends updated.
Help with everyday tasks such as moving the lawn, doing laundry, grocery shopping, sorting the mail or organizing prescriptions for the week.
Offer to bring food over for dinner or organize a meal train for the family. 
It's also important for family and friends to take care of themselves. Don't burn yourself out trying to help someone else so remember to keep your own needs met before helping out.
Pitch in to help
Identify what is helpful for your loved one undergoing treatment. This might include driving them to and from appointments, running errands or doing yard work. 
"I tell patients, 'Think of things you can delegate to somebody else, and think of what doesn't need to be done right now and can wait,' " Penn said. "Patients need to conserve their energy."
Often, Penn sees patients and family members stressed over answering calls or messages from well-wishers seeking an update. She likes to remind people it's OK to wait to answer those inquiries. For family and friends of a cancer patient, be aware that you might not get a quick response. 
"Sending a text just to say, 'I'm thinking of you, and I'm here when you need me,' is good," Penn said.
Focus on life outside of cancer 
Not every interaction needs to be about cancer and treatment. Penn recommended offering to watch a movie or take a leisurely drive together. Be willing to talk about other subjects.
"Think about what activities bring you fulfillment and relaxation without being overly strenuous," Penn said. "Whether it's meditation, yoga, going for a walk or simply watching a funny movie, people need to allow themselves time to not think about cancer."