Denise Thompson is a devoted mother, grandmother and great grandmother.
"My greatest thing in life was raising my kids," Thompson said.
Thompson has leaned on her family's support since developing epilepsy after a bad car accident. Epilepsy is one of the most common conditions affecting the brain. It causes seizures, and for about 2 out of 3 people, it can be managed with medication.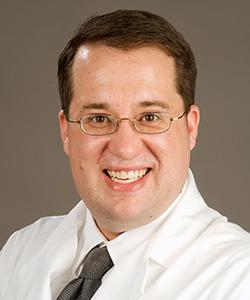 But when medication failed to control Thompson's weekly seizures, she turned to Sean Lanigar, MD, a neurologist at University of Missouri Health Care. He recommended a precision medicine treatment called responsive neurostimulation, or RNS.
"She had seizures coming from both sides of her brain, so we can't necessarily take out both sides of the brain, because that would leave her with no memory," Lanigar said. "So we looked at a device which could hopefully be targeted toward those areas where the seizures were coming from."
The RNS neurostimulator is similar to a pacemaker, but instead of controlling a person's heartbeat, this device responds to brain waves.
During surgery, tiny wires with electrodes were placed in Thompson's brain. The wires are connected to a battery-powered neurostimulator that monitors brain waves, looking for unusual activity.
"It detects that and gives a little electrical stimulation, which the patient doesn't feel, to stop a seizure," Lanigar said.
At regular appointments, Lanigar programs the neurostimulator, optimizing it to Denise's brain.
Today, Thompson frequently goes months between seizures. When seizures do occur, Thompson recovers more quickly and has less memory loss.
"Usually I couldn't remember anything," Thompson said. "Anything from the day or two before a seizure, I wouldn't know. Now I can remember that and what I did."
Candidates for RNS should be 18 or older, have tried at least two anti-seizures medications and still experience frequent seizures that come from one or two areas of the brain.