Tonya Magner, mother of six children, is no stranger to epidurals.
"During my first four pregnancies, I didn't care what medicine I was going to take for pain relief — I just knew I wanted pain relief," she said. "But when I got pregnant with Addie, my fifth child, I wanted to try doing things naturally and avoid putting so much medicine in my body."
Magner, who lives in Vienna, Missouri, told her local doctor her wishes. But when it came time to deliver Addie, she didn't think her care team fully supported her wishes.
"They seemed irritated that I didn't want an epidural, and they didn't help me feel comfortable, which I think made my labor take longer," Magner said. "I eventually reached my breaking point and had an epidural before Addie was born."
Fast-forward to Magner's sixth pregnancy. She wanted a team that was on the same page. She found one at MU Health Care, after discovering the Low-Intervention Birth Program at Women's and Children's Hospital.
"I went to the website, watched the video and thought, 'This looks cool,' " Magner said. "I called them up and made an appointment."
Low-intervention patients deliver in a special birthing suite. Unlike a regular hospital room, the suite has a hydrotherapy tub for relaxation and wireless fetal monitors that allow patients to move freely. It also has tools to provide natural pain relief, including birthing stools, birthing balls and birthing slings. It's an ideal environment for women who want to experience natural childbirth with the comfort of knowing a team of specialists is nearby in case of emergency.
Women who enroll in the Low-Intervention Birth Program can choose to receive prenatal care from an MU Health Care obstetrician or a certified nurse midwife. Certified nurse midwives are nurse practitioners who specialize in obstetrics and gynecology, focusing on low-risk pregnancies and births.
Participants can also bring their own doulas or birth coaches to work alongside MU Health Care's experts.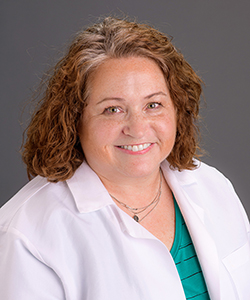 "Our whole lives, we are programmed to think that if you are in severe pain, something is wrong," said Lori Anderson, CNM, the certified nurse midwife who cared for Magner. "This program is all about adjusting that thought process and welcoming the pain as something that brings you closer to your baby."
While unmedicated births are a common goal within the program, participants can request pain relief at any point during their labor.
"We tell our patients, 'It's your body, and it's your choice,' " Anderson said. "Sometimes, we reach a point where the patient isn't able to go any further without pain medication, and we will absolutely honor her wishes. Other times, we will recognize that she is suffering, and we might even recommend that she have an epidural."
Magner visited Anderson for several months to prepare for her delivery. In addition to providing routine prenatal care, Anderson showed Magner videos that explained natural childbirth. The goal was to help Magner identify the source of her pain during labor and understand that discomfort is a normal part of the process.
On June 9, 2019, Magner drove to Columbia with her husband Cliffty, checked in to her birthing suite and went into labor with her sixth child.
"This was by far the best experience I've had delivering a baby," she said. "I felt comfortable the entire time, and it felt like my team was on my side. They completely let me take over and labor like I wanted to. I sat on the birthing stool and birthing ball a few times, and I was really looking forward to getting in the tub, but I didn't have a chance to because things went so fast and so well for me."
Anna Marie Magner was born — a healthy, happy baby girl who weighed 6 pounds, 12 ounces.
"If you're even considering having a natural childbirth, I would definitely go through this program," Magner said. "If I have another baby, I'm definitely going back."