The old saying "context is key" is especially true for family medicine doctors. That's why they ask patients several questions about their extended family's medical history and lifestyle habits.
Family medicine doctors gain the most context, however, when they personally care for multiple generations of a family. This first-hand knowledge helps them identify and manage chronic health issues in older generations while simultaneously working to prevent them in younger generations. 
"It's helpful for us to understand family dynamics," said Laura Morris, MD, a family medicine doctor with MU Health Care. "When we have relationships with multiple family members, we are better equipped to offer the right types of services and recommendations at the right times."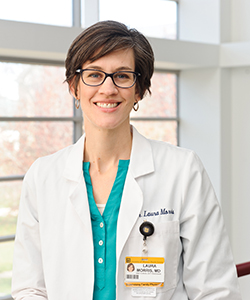 For example, if a child is constantly misbehaving at school, a practitioner who also cares for the patient's family members will have deeper insight into why this might be happening. If there was a recent traumatic event in the household — such as a divorce or health scare — the doctor can tailor the treatment to help the child cope with that particular situation.
All the while, family medicine doctors take confidentiality to heart when caring for entire families. They will not share details about visits or diagnoses with other family members without first receiving consent.
"We have great respect for our patients' privacy," said Morris, who is also an associate professor of Clinical Family and Community Medicine at the University of Missouri School of Medicine. "Caring for multiple generations of a family doesn't mean confidentiality goes by the wayside. If a parent does not want his or her adult children to know about a certain diagnosis until a treatment plan is in place, we will by all means honor that wish."
Morris said patients sometimes overlook the fact that family medicine doctors are trained to help them manage common conditions and perform routine procedures. Instead, they will go straight to a specialist for care.
"Some patients assume they should see a heart doctor for their high blood pressure, an endocrinologist for their diabetes and a gynecologist for their Pap smears," she said. "In reality, family physicians can handle the vast majority of what people need. We are trained to offer a breadth of care to all age groups — from prenatal to nursing home — and we recognize when to refer you to a specialist when a deeper level of care is necessary."