Right next to Kerry Fry's home in Stover, Missouri, is a small building with a sign above the door that says, "Papa's Workshop." It is Fry's happy place. It's where he goes to tinker with his immaculately maintained Harley-Davidson motorcycle and build wooden toys and furniture for his grandkids.
But in 2021, the Harley started to gather dust and the woodworking tools didn't get much work. Fry, who was 74 at the time, needed breaks to catch his breath while he and his wife, Sharon, took their evening walks. Eventually, even the short jaunt between his home and workshop was exhausting.
"I would just walk a few feet and get really winded," Fry said.
He had suffered a heart attack 25 years earlier, and it damaged the muscle that supported his mitral valve, which separates the left chambers of the heart. The leaflets of the mitral valve didn't close properly to form a tight seal, so blood leaked from his left ventricle back to his left atrium with each heartbeat. The condition — called mitral valve regurgitation — prevented Fry's heart from effectively pumping blood to the rest of his body, which caused him to tire easily.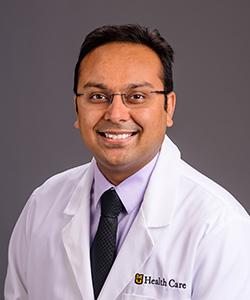 "Mitral valve regurgitation is predominantly seen in middle-aged and older individuals," said Chirag Bavishi, MD, an interventional cardiologist at MU Health Care. "Severe mitral regurgitation can be quite devastating. In addition to frequent symptoms and hospitalizations, it eventually leads to permanent damage to the heart muscle and heart failure."
Fry's cardiologist, who had monitored his condition for years with echocardiograms, told him it was time to act. He referred Fry to MU Health Care, whose Structural Heart Program treats diseases and defects of the heart's valves, walls and chambers.
Bavishi explained to Fry that MU Health Care now offers a minimally invasive transcatheter procedure to correct some types of mitral valve regurgitation using a device called MitraClipTM.
"The MitraClip procedure is a very safe and effective procedure with a low risk of complications," Bavishi said. "The benefits include a shorter hospital stay and a more rapid recovery than traditional open heart surgery."
The procedure involves inserting a tube into the femoral vein in the groin and threading it to the heart using advanced imaging for guidance. Once the tube is positioned in the left atrium near the mitral valve, the clip is delivered through the tube and placed on the mitral valve leaflets, ensuring a tight seal at the area of the leak.
"He explained everything really thoroughly," Fry said of Bavishi. "He showed us a short video of the process, so we knew exactly what was going to happen. I was really glad they weren't going to have to open my chest up."
On Sept. 17, 2021, Fry became the first person to have the mitral valve repair procedure at MU Health Care. After one night in the hospital, Fry returned home and began feeling much better after just a few days. He rebuilt his endurance with cardiac rehabilitation exercise sessions close to home at Bothwell Regional Health Center in Sedalia.
Now, he and Sharon can take their long evening walks and he has plenty of energy to tackle new projects in his workshop.
"It doesn't bother me anymore," Fry said. "I feel as good as new."
Learn more about mitral valve regurgitation
Types: Primary (damage to the valve's leaflets), secondary (damage to the left atrium or ventricle).
Common causes: Age-related degeneration, prior heart attack, heart failure or infection.
Symptoms: Shortness of breath, lightheadedness, fatigue, decrease in exercise tolerance, palpitations and swelling of the legs.
Treatments: Medication (diuretics to reduce fluid buildup), percutaneous intervention (transcatheter-based procedure, usually for secondary mitral valve regurgitation or select patients with primary mitral valve regurgitation) or open-heart surgery (repair or replacement for primary mitral valve regurgitation).
What is a Structural Heart Program?
MU Health Care's Structural Heart Program treats diseases and defects of the heart's valves, walls and chambers. The Structural Heart team treats the entire spectrum structural heart conditions, often with minimally invasive catheter-based procedures.
Aortic valve stenosis: With age, the aortic valve — which connects the heart to the body's main artery, the aorta — can thicken and narrow because of calcification, which prevents the valve from letting blood flow freely. In some cases, transcatheter aortic valve replacement (TAVR) is the right treatment for the patient.
Mitral valve regurgitation: Age, injury or infection can damage the valve that separates the left chambers of the heart. The leaky valve can lead to heart failure. Transcatheter edge-to-edge repair using the MitraClipTM device helps to close the leak, allowing the valve to function properly.
Atrial fibrillation (AFib): People who suffer from AFib but cannot tolerate blood thinners face an increased risk of stroke when blood pools in the heart's left atrial appendage (LAA). By blocking the LAA with a device such as WATCHMANTM, the risk of stroke is drastically reduced, allowing the patients to safely stop using blood thinners.
Patent foramen ovale (PFO): A PFO is a hole between the right atrium and left atrium that is benign in most patients. However, young people who have suffered a stroke deemed to be caused by a PFO may benefit from a PFO closure procedure that plugs the hole.
Paravalvular leak: Over time, surgically repaired aortic or mitral valves sometimes leak because of the space left between the natural heart tissue and the replacement valve. This can cause symptoms of heart failure. A procedure that places a closure device around the valve can stop the leak.