Women have unique health care needs that deserve specialized care. Common problems like pelvic floor pain and other conditions involving the pelvis can be difficult to talk about. Symptoms and treatment options are often misunderstood.
Fortunately, MU Health Care offers a range of treatment options for women's pelvic pain. The Mizzou Therapy Services clinic, located at 4040 Range Line St. in Columbia, relies on measures such as physical therapy, medication management, injections and lifestyle changes.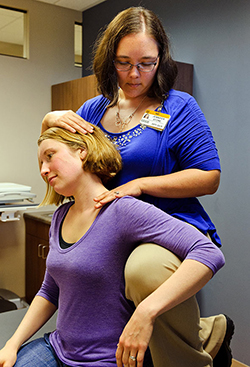 MU Health Care also has providers at the Female Continence and Advanced Pelvic Surgery clinic, located at 500 North Keene St., Suite 306. Led by Raymond Foster, MD, urogynecologist and associate professor of obstetrics and gynecology, the clinic also offers physical therapy and non-surgical treatments as well as surgeries to correct issues like pelvic organ prolapse.
Pelvic organ prolapse is a condition that occurs when the normal support of the vagina is lost, causing the bladder, urethra, cervix and rectum to sag. The bulging also will commonly give women the sensation of pressure or fullness in the pelvis and may cause lower back discomfort. Over time, the effects of childbirth, straining, genetics and other health issues can contribute to the development of pelvic organ prolapse. All women are susceptible to problems that can be embarrassing or uncomfortable such as prolapse, bladder control problems or bowel control problems. These problems can greatly affect your quality of life, but women should know there is hope.
"It is similar to treating muscles in other parts of your body," said Jennifer Stone, PT, clinical supervisor of rehabilitation services. "Many people don't really know what pelvic muscles do, but once they understand their function, patients are empowered in their treatment."
To find out what treatment option might be right for you, contact either MU's Female Incontinence and Advanced Pelvic Surgery clinic at 573-817-3165 or the Mizzou Therapy Services clinic at 573-884-1587.