It only takes a few chords to capture Ayla Campbell's attention. The spunky, smiley baby has developed a love for music ever since she arrived 16 weeks early, weighing less than two pounds.
While staying in MU Health Care's neonatal intensive care unit, or NICU, Ayla received her first visit from a music therapist.
"Her heart rate would just go down, and her oxygen was going up," said Angel Campbell, Ayla's mom. "If someone had told me that this could happen just from singing, I wouldn't have believed it."
Each year, experts at MU Health Care's NICU treat more than 500 premature and critically ill babies. While healing often involves surgery and medicine, it also can involve music.
Emily Pivovarnik is a trained music therapist who helps babies eat better, regulate their stress levels and adjust to stimulation.
"There's a lot of really good information about that in our research literature already," Pivovarnik said. "We want to look longitudinally at this data and see if there are long-term effects of this intervention on kids' neurodevelopment."
Pivovarnik is starting a research project to look at the long-term effects of a specific music therapy intervention called multimodal neurological enhancement, or MNE. This therapy combines music, gentle touch and rocking to help a baby's brain develop.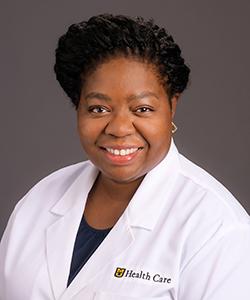 "The micropreemie, the premature infant, is just a special niche of patient," said Olugbemisola Obi, MD, medical director of MU Health Care's NICU. "We get to them very, very early. We get them before their brain is fully developed, and so it makes sense that whatever therapy we can target while that brain is developing would help them."
About 135 babies will be involved in the research project. After leaving the hospital, they'll receive neurodevelopmental testing at MU's Thompson Center for Autism and Neuromuscular Disorders for two years.
Over the past eight months in the NICU, Ayla has grown and developed — moving on from therapies like MNE to playing with instruments. As the Campbells prepare to head home, they know music will always be a part of Ayla's life.
"We can all learn the same song and sing it to Ayla and do instruments together," Angel said. "It'll definitely be part of the family."