On the morning of Jan. 28, 2021, MU Health Care cardiologist Taishi Hirai, MD, prepared for another day opening blocked arteries in the cardiac catheterization lab. This day was different, though, because he didn't have to lean over a procedure table for hours wearing a heavy lead apron to protect him from radiation while manually guiding the tubes, wires, balloons and stents that are the tools of his trade.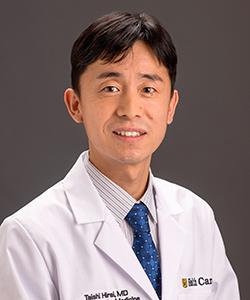 Instead, Hirai sat across the room in a cockpit and watched a screen that provided a vivid look inside his patient's chest, thanks to a new imaging system called ARTIS icono. He manipulated three joysticks that controlled a robotic surgical arm called the CorPath GRX vascular robotic system. The new technologies worked together to help him find and fix the patient's problem by placing a stent to open a coronary artery that was 80-90% blocked.
MU Health Care's first robotic-assisted percutaneous coronary intervention (PCI) was a success.
"What is different between a manual and robotic PCI procedure is when you do manual, you're at the bedside and you have the patient in between you and the screen, so you're always looking up to see the image," Hirai said. "What's good about the robotic system is you're sitting on the chair without wearing the lead apron and you have a large screen right in front of you. You can see the same thing you would see in the room, but you're much closer to the image. For me, that helps in terms of visualizing the lesions accurately and precisely placing the stents."
MU Health Care became the first health system in mid-Missouri, only the second in the state and one of fewer than 100 nationwide to offer robotic-assisted interventional cardiology procedures. The opportunity to be at the front of the line came about because of the partnership between the University of Missouri System, MU Health Care and Siemens Healthineers, a global leader in medical technology.
Douglas Sohn, a St. Louis-based cardiology account executive for Siemens Healthineers, said the robotic system has some significant advantages for doctors like Hirai. Manual cath lab procedures require doctors to continuously stand in the radiation field of the imaging equipment, and research has shown that prolonged exposure increases health risks. Another issue can be career-shortening back problems from spending so much time standing over a procedure table wearing a lead apron. Robotic surgery can decrease those occupational hazards and allows doctors to better tolerate multiple procedures per day.
For patients, the robotic benefit in certain cases may be a more precise PCI that can get them back on their feet and leading active lives again. For now, MU Health Care is only performing interventional cardiology procedures with its new equipment, but down the line, the technology also could be used to help doctors remove clots in the legs or brain.
"This is the direction the field is going to go," Hirai said. "Robotic procedures are going to be an important aspect of what we do. In order to be a good robotic program, you have to have a good team. In our cath lab, we have a great team with skilled techs and nurses. We all work together to give patients the best outcomes."