I‭‭‭t's a milestone moment for all parents: ‭the moment their baby lets go of the hands that have supported him and he takes his ‭first steps on his own. But as Bob and ‭Annette McDonald watched — and waited ‭— for their son Mark to take his first ‭steps, they feared it was a developmental milestone that would never come.
‭Parents to eight other children, the ‭couple knew something wasn't right, even when the pediatrician told them not to ‭worry. Mark wasn't walking because he had ‭older siblings carrying him around, the doctor said. ‭But Bob, a University of Missouri ‭School of Medicine alumnus who has ‭served as a clinical faculty member at the ‭school, wasn't satisfied with the doctor's ‭explanation for Mark's delays.
‭"We had a large cohort — a collection of people to compare to — having nine kids, and it was apparent that Mark was a ‭little bit behind," Bob said. "I was worried ‭he might have a neuromuscular disease, and the one I was most fearful of was Duchenne. I was hoping I was wrong." ‭
A blood test confirmed Bob's suspicion ‭— 2-year-old Mark received a diagnosis of Duchenne muscular dystrophy. Mark ‭began walking only a short time earlier at ‭19 months. ‭"It's been tough for the family," Bob said. ‭"You go along in life. It's not always easy. ‭But when all of a sudden, one day, you get ‭that diagnosis, it affects everybody." ‭
Duchenne muscular dystrophy (DMD) is the most common form of ‭muscular dystrophy, a group of diseases ‭characterized by muscle weakness. It ‭primarily affects boys, and, in most cases, symptoms appear between the ages of 2 and 5. As the disease progresses, many kids lose the ability to walk. Eventually, muscles ‭in the heart and lungs stop working. Many ‭with Duchenne don't live past 18.
‭In medical school, Bob studied DMD and ‭knew the bleak outlook for kids with the disease. He began researching Duchenne intensely and, to his surprise, found an ‭article by researcher Dongsheng Duan, PhD, at MU.
"Dr. Duan is the ideal person you want researching any type of disease. He is exceptionally rational, extremely well-trained, and he never forgets the personal element of it." Bob McDonald, MD
‭Bob, a head and neck surgeon in Jefferson ‭City, drove to Columbia to meet with Duan. That was eight years ago. Since then, their friendship has grown — and so has Duan's research. ‭Duan's goal is to cure the disease at the genetic level before symptoms ever take ‭hold. He's successfully treated dogs with ‭Duchenne, and the next step is translating the treatment to humans. Although a cure ‭still could be years away, he's confident he's on the right path.
Research lays the foundation
‭Muscular dystrophy is caused by gene ‭mutations, and kids with Duchenne have ‭a specific gene mutation that interrupts the production of dystrophin, a protein ‭that maintains muscle integrity. Without dystrophin, muscle cells become weak and eventually die.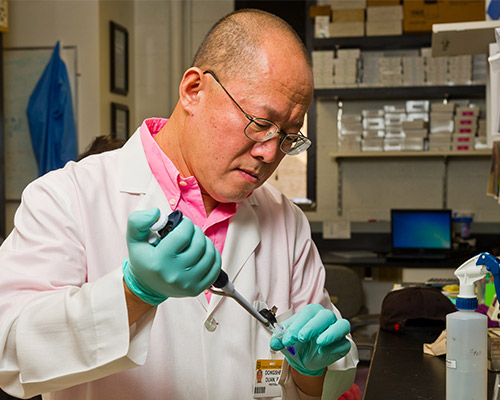 Through gene therapy, Duan replaces the faulty genes with healthy ones. Dystrophin is tricky to replace, though, because of its large size. It is an incredibly long gene, ‭containing nearly 10 times the amino acids ‭of a typical human protein.
‭"Due to its size, it is impossible to ‭deliver the entire gene with a gene therapy vector, which is the vehicle that carrie‭the therapeutic gene to the correct site in ‭the body," Duan said. "Through previous ‭research, we were able to develop a ‭miniature version of this gene called a ‭microgene."
‭It has taken Duan's team more than a ‭decade to find a method to successfully ‭distribute the microgene to all affected ‭muscles in dogs. Like humans, dogs ‭develop DMD naturally. Because of the ‭similarity in size between dogs and small ‭children, successfully treating dogs with ‭DMD offers hope for treating the disease in humans.
‭In a study published last fall, Duan's team showed how a common, harmless virus ‭effectively carries the microgene to all ‭muscles in the bodies of diseased dogs. ‭
"The virus we are using is one of the most common viruses; it is also a virus that produces no symptoms in the human body, making this a safe way to spread the ‭dystrophin gene throughout the body," Duan said. "It's important to treat DMD early before the disease does a lot of damage, as this therapy has the greatest ‭impact at the early stages in life." ‭
The researchers injected puppies with the virus carrying the corrected ‭microdystrophin gene when the dogs began displaying symptoms of DMD at about 2 to 3 months of age. Those same dogs, ‭now nearly 1 year old, still are developing normally. ‭Duan said he is pleased with the results ‭and eager to translate his findings to kids with DMD. He said human trials could begin in a few years.
Pathway to a cure
‭Now 11, Mark McDonald is a "funny, ‭happy-go-lucky kid" who loves to swim and ‭play with Legos, his dad said.
‭"Mark has a lot of good things going for ‭him," Bob said. "He has a horrible disease, but it doesn't have him."
‭Coincidentally, Mark and Duan share something special: Christmas birthdays.‭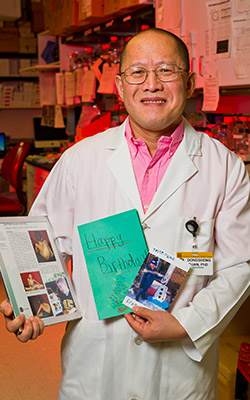 "Every birthday, Mark sends me a ‭birthday card, handwritten," Duan said. ‭"We are birthday buddies. We have become good friends." ‭
Bob confirmed the friendship. ‭
"We have a special place in our hearts at ‭the McDonald house for Dr. Duan," he said.
Mark's birthday cards are displayed in Duan's office, along with pictures of ‭other families and friends affected by ‭muscular dystrophy.
‭"Especially when you see patients, you ‭become friends of theirs and the families," Duan said.
‭Another of those friends is Lixing Reneker, PhD, associate professor of ‭ophthalmology at the MU School of ‭Medicine. Reneker's son, Joe, 18, is a freshman engineering student at MU. He ‭also has muscular dystrophy.
‭"He knows all our struggles," Lixing said of Duan. "He constantly is telling me our ‭story inspired him to work harder. When you have a close friend who has a son with ‭a disability related to what his research is ‭and what he can accomplish, it adds more ‭meaning to what he's doing." ‭
Duan remembers telling Joe about his research on treatments for muscular ‭dystrophy.
‭"I told Lixing's son that the cure is around the corner," Duan said. "Then a few years later, her son asked me, 'How big is that corner?'"
Duan said it can be difficult for him to ‭see patients and their parents who are waiting for a cure. But it's motivating, too.
‭"The parents want it to be cured ‭tomorrow," Duan said. "I'm so glad that, ‭along the way, we have identified different ‭problems and tried and solved problems, ‭and now we're so close. One day, we're ‭going to get to there."
‭Bob said he's confident in Duan and his abilities.
‭"From the time we diagnosed Mark until now, it's amazing the stuff that is available ‭and what is on the horizon," he said.