As a kid, Larry Nelson loved school. As an adult, he tries to create the same experience for his students at Columbia's Cedar Ridge Elementary School, where he is in his first year as the principal.
Nelson's morning announcements over the intercom include a twisted take on what will be served in the cafeteria.
"I'll say things like, 'For lunch today, we're going to be serving caterpillar casserole,' " Nelson said. "I try to make school upbeat and fun for them."
Nelson was never sure if he was making real connections with the kids until he was separated from them. As he recovered from emergency surgery in January, the video messages and written notes from students started arriving.
"I feel worried about you. I wish you'd feel better so I won't be worried about you. … I miss you. I had my tonsils removed in surgery so I know how you feel. … I miss your visits to the classrooms. It was really funny when you had that costume on and said you were Mrs. Guillory's evil twin. … I really miss morning announcements when you always joked about the lunch food. … You are the funniest principal in the whole wide world."
Those messages reminded Nelson that education was his true calling in life and that he missed his students as much as they missed him.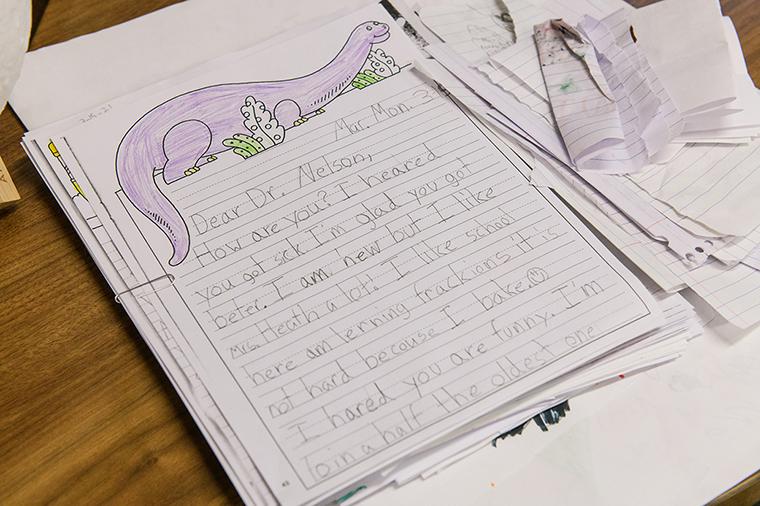 'I need an ambulance'
A month earlier, on Dec. 21, 2020, Nelson was in his office talking on the phone with his assistant principal about what they needed to get done before holiday break. He suddenly felt a sharp pain in his upper back.
"It was to the degree where I jumped out of my chair and hung up the phone, went out into the office and said, 'I need an ambulance,' " Nelson said. "I was in so much pain, I couldn't lay down or sit down, so I was just hugging the wall."
The next thing Nelson remembers is looking up from his bed at MU Health Care's University Hospital as a doctor told him he needed emergency surgery.
Nelson, 51, had suffered an aortic dissection, which is a tear in the inner layer of the artery that branches off the heart. The tear weakens the aorta and increases the risk of a rupture of the vessel's outer wall, which would cause massive internal bleeding.
Anything that harms blood vessels — such as smoking or high blood pressure — can lead to aortic dissection. And some people are born with a weak or enlarged aorta that is prone to dissection despite no other risk factors. In Nelson's case, high blood pressure likely was the cause.
The symptoms of aortic dissection are similar to a heart attack, which can sometimes lead to a delayed diagnosis. Fortunately for Nelson, his condition was quickly noticed on a CT scan, and MU Health Care's experienced cardiothoracic surgeons were able to operate quickly.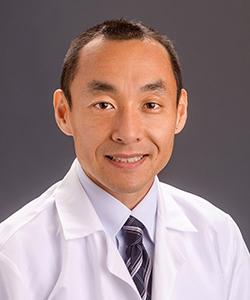 "If a patient comes to the ER with chest pains, the first thing we suspect is a heart attack, and the next thing is an aortic dissection," said Takashi Murashita, MD, who treats about one patient per month with the condition. "The most important thing is to replace the big vessel above the heart that's called the ascending aorta. If the ascending aorta ruptures, it's probably fatal. In his case, the aortic heart valve was leaking severely, so we also had to fix that."
Murashita performed the 10-hour open-heart surgery with colleague Xingyi Que, MD. They stopped Nelson's heart and used a heart-lung bypass machine to circulate oxygenated blood through his body during the procedure. They removed the ascending aorta and replaced it with a flexible artificial tube that was sewn into place, and they implanted a ring inside Nelson's aortic valve to stop the leaking.
Back to school
When he woke up a few hours after surgery, Nelson found out what happened and learned that full recovery would take about three months. He had always kept himself in good shape, but after surgery, Nelson was so physically weak that he needed help to do daily tasks.
By late February, Nelson was strong enough to begin workouts at MU Health Care's cardiac rehabilitation gym. He is taking a different blood pressure medication than before his injury. He checks his blood pressure three times a day to make sure it's under control and minimize the risk of rupture in his descending or abdominal aorta.
Nelson also needed to recover mentally. The tear in the inner layer of his ascending aorta had disrupted blood flow to his brain before surgery, and in the months afterward, he took a little longer to process information and respond during conversations.
"Probably my biggest fear was, am I going to get back to the old Larry — the sense of humor and fun-loving guy?" he said. "I was told that it will come back but it just takes time."
Inspired by the messages from his students, Nelson set the date of March 16 for his return to school. He got emotional when he arrived at Cedar Ridge to find a big sign outside that read, "Welcome Back, Dr. Nelson." He stood out front and greeted the students as they arrived and then visited each classroom, where the kids read him the notes they had written him during his absence.
"It was a great day," Nelson said. "It's really helped with my state of mind and my recovery. After the first day, my confidence was back up and I felt I was getting back to my old self."