Tim Peters gladly discusses the event that changed his life. He wants to use his experience to drive home the importance of hunter safety to anyone willing to listen. He does have one rule, though.
Don't call his fall from a tree stand an accident.
"It wasn't an accident," Peters said. "It was negligence on my part — pure and simple."
As Missouri's hunters head back to the woods for deer season, Peters is joining them, and he wants them to remember their safety isn't a matter of chance but of choice. Thanks to the skill of MU Health Care's Comprehensive Spine Center team and his own perseverance, Peters can still do what he loves.
Remembering the fall
Peters saved the text he sent his hunting buddy at 6:35 a.m. on Oct. 5, 2019. He was on his stomach, flat on the ground and felt searing pain when he even tried to get up. He fished the phone out of his pants pocket and alerted his friend that he needed help.
"I look at that text every day. It simply states, 'I fell,' " Peters said. "It's a benchmark in my life that I wish I didn't have."
Peters, 54, was always a safe hunter. He had faithfully worn a safety harness when he hunted from a tree stand. That morning, he had agreed to meet a friend at 5:45 a.m. on a property near his Kirksville home, but he was running a little late and forgot the harness. When he realized his mistake, he didn't want to inconvenience his friend, so he didn't turn around.
They planned to bow hunt from stands about 400 yards apart. Peters climbed the ladder into his stand and started to haul up his bow with a rope. That's when he heard a sickening sound. The cables that connected the back of the stand to the platform snapped simultaneously, causing the platform to drop like a trap door. If Peters had been wearing a harness, he would have been suspended from the tree and unharmed. But he wasn't wearing a harness.
"I don't know how long it takes to fall 16 feet, but I felt like I could have read a chapter of 'War and Peace,'" Peters said. "It felt like eternity."
Because it was still dark out, Peters couldn't see the ground and lessen the impact with a tuck-and-roll landing. He hit feet first with his knees locked.
After the text, his friend found him and called 911. Peters was taken by ambulance to Northeast Regional Medical Center, where he was stabilized. An MRI revealed he had a burst fracture in his lower back. He was airlifted to MU Health Care's University Hospital.
As complex as it gets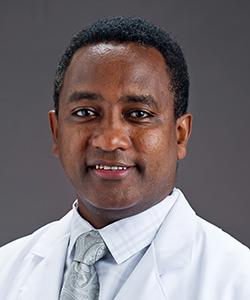 When MU Health Care spine surgeon Fassil Mesfin, MD, PhD, made his incision to begin Peters' spinal fusion surgery, what he found was far more serious than the scans suggested. The L3 vertebra had exploded like a grenade, and bone fragments had shredded the spine's thecal sac — the sheath that contains spinal fluid and protects the spinal nerves. So many nerves were exposed, Mesfin compared the wound site to a bowl of spaghetti.
After seeing the extent of the damage, Mesfin was surprised that Peters could still move his legs when he got to the hospital. His goal was to make sure Peters could keep using those legs when he left the hospital.
Mesfin removed as many bone fragments as he could, gently tucked the nerves back into place and repaired the thecal sac with surgical glue. He used rods and screws to connect the L2 to L4 vertebrae — the minimum amount of fusion that could be done to protect the shattered L3. The next day, Mesfin operated again to remove more bone fragments and repair more of the thecal sac. A few days later, orthopaedic spine surgeon Muhammad Mirza, MD, installed a cage to support and protect the fused vertebrae.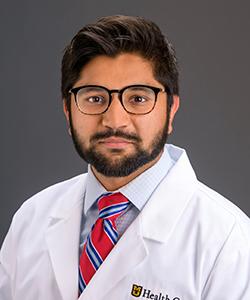 "This was as complex as spine surgery can get," Mesfin said. "He's a very fit person, and you want him to have a life after this, so you want to do the minimum fusion with the maximum benefit."
Peters spent a total of two weeks in the hospital and two more weeks at Rusk Rehabilitation Hospital — a joint venture of Encompass Health and MU Health Care — where the therapists helped him get back on his feet.
"I was a little nervous about leaving Rusk, but they made sure all my concerns were covered — like getting in and out of a truck and walking stairs," he said. "When I would mention something, they would say, 'Let's work on that right now.' "
The comeback
Before his injury, Peters was a triathlete. He came to the sport late in life, and it didn't come easily. He learned to push through pain and exhaustion. After the leaders had finished the race and gone home, he would keep plugging away out on the course, determined to prove a point to himself.
"I usually finished close to last, but I finished," he said. "Never had a race I didn't finish. I like the quote, 'You can quit and the pain will go away, but that won't get you to the finish line.' "
He is taking the same approach to his rehabilitation. As soon as he was able, he started walking without a cane, swimming and lifting weights. He still has some pain in his hips and isn't able to run long distances yet, but he intends to get there.
Mesfin said MU Health Care treats about a dozen patients a year who have suffered major hunting injuries. Peters' new passion is spreading the word about safe hunting. He encourages deer hunters to always wear a safety harness and, if they're heading to the woods alone, to make sure at least one other person knows where they will be and when they expect to return.
Over the summer, Peters returned to the site of his injury to get some closure.
"Looking up at that stand hanging there, with the platform straight down against the tree, I shook my head and thought, 'You knew better, and yet you still did this,'" he said. "That's why I don't call it an accident, because I did not follow my own rules. Now, I want to make sure others don't make my mistake."