Winter is a season of early darkness and bitter cold, making it a tough time to get outside and be active.
Though it might be tempting to light a fire and curl up on the couch every evening, it's important for families to stay active and keep their bodies moving.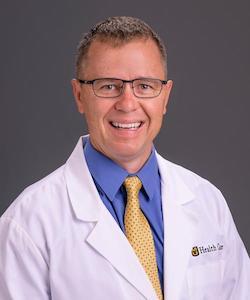 "It's important that during winter, and all seasons of the year, we set good examples for our children," said Christopher Wilhelm, MD, a pediatrician at MU Health Care. "One way we can do that is to show them how committed we are to a healthy lifestyle."
If it's not too cold outside, go exploring on the MKT Trail or take a brisk 10-minute walk together. Wilhelm said kids should engage in 60 minutes of physical activity every day regardless of the weather.
If it's too cold to be outside, consider these fun and engaging indoor activities:
Find an online workout program for the entire family.
Use tape to make a hopscotch pattern on the floor.
Set up an obstacle course or jumping area with cushions and pillows.
Enroll family members in martial arts, dance or gymnastics programs.
Play games that require movement, such as Twister, Simon Says and charades.
Play sports or dance games on an interactive video game system, such as the Wii or Kinect.
Turn on some music and dance.
Be mindful of snacking during the winter months, too. With so many holidays, it's easy to get off track with exercise and healthy eating habits. Limit the amount of snacks offered at home to help set expectations and lead by example.
"It's easy as a family to fall into the trap of unhealthy eating habits this time of year. Who can simply pass by a sugar cookie without having one?" Wilhelm said. "However, instead of saying it is too cold to exercise and I am going to wait until next year to eat healthy, let us all resolve to begin our resolutions to exercise and eat right starting today."