As a construction worker, Bobby Benson understands hard work. And giving up cigarettes was one of the toughest jobs he's faced. Benson, a Columbia resident, started smoking at age 15 and had failed in several attempts to break the habit.
"I wanted to quit for years, mainly for my own health," Benson said. "It was becoming more and more difficult to breathe, and any exercise would make me short of breath. I wanted to spend more time with my family, so prolonging life was important to me. I've seen firsthand people I care about suffering health consequences from smoking, and I didn't want to do that to myself anymore."
With help from the tobacco-free classes offered by University of Missouri Health Care's Ellis Fischel Cancer Center, Benson smoked his last cigarette in the fall of 2018.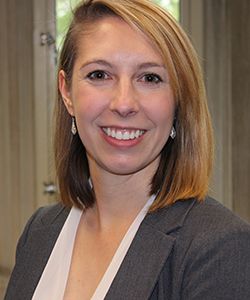 "We start by identifying triggers," said Jenna Wintemberg, PhD, a certified tobacco treatment specialist and teacher of the tobacco-free courses. "Once we identify triggers, we start to develop coping strategies and making healthy lifestyle changes."
Tobacco cravings are sometimes tied to an emotion, such as anger, or to a situation, such as driving. 
"There's no other behavior we do 70,000 times a year — the average amount of puffs somebody who smokes a pack a day does," Wintemberg said. "Joining a program like Ellis Fischel's can be tremendously helpful for someone who is considering quitting or might need additional support."
Benson had tried nicotine replacements, such as patches and gum. The additional support and accountability of Ellis Fischel's classes made the difference for him. He knew he would have to breathe into a carbon monoxide monitor that measured the amount of smoking he had done recently.
"Those numbers kept decreasing every class, so it felt like I was actually accomplishing something," Benson said. "It was helpful to hear how others were dealing with their journey to quit in addition to learning coping strategies and having access to nicotine replacement therapy."
Research shows having formal support doubles the chances of quitting. The classes at Ellis Fischel provided the in-person support Benson needed from the instructors as well as his fellow quitters. 
"This class is the perfect combination to elevate your motivation to quit and hopefully quit for good," Benson said. "It is really helpful to be surrounded by supportive instructors and other members who are on the same journey as you are."
For most people, quitting tobacco takes more than one attempt, mostly because of nicotine withdrawal. Wintemberg checks in with participants to learn if they're safely lowering their nicotine levels and handling withdrawal. Each session is held every other week for 10 weeks, but participants are encouraged to attend as many classes as they need to help them quit for good.
"We'll have people that will turn around and immediately enroll in the next class, and then they will be with us for 20 weeks," Wintemberg said. "And that's encouraged if it's necessary for that person to quit. Ellis Fischel has invested in tobacco cessation for our community because not only are we going to be leaders in treating cancer, we're leaders in preventing cancer, as well."
Community members are able to join the free, online tobacco-free classes any time. Each class is held at 5:30 p.m. every other Tuesday via Zoom. Nicotine replacement therapy options are available to attendees. To register, please email quitnow@health.missouri.edu. 
The commitment to breaking the smoking habit can be a life-changer. It certainly was for Benson.
"I have more energy and can breathe better," he said. "I've been able to improve not only my health, but time with my family. I was able to build a sledding course for my son without taking breathing breaks and plan to hike with my wife when the weather warms up. I wouldn't have enjoyed doing these activities as smoker."