Marsha Meyer has a history of sharing her voice with others as a vocal teacher. When she wasn't leading her show choir to a state victory, she volunteered to teach children songs at her church. The 70-year-old mother of two has always been a positive light to those around her.
But one day in 1994, things went dark. She woke up feeling unable to function.
Things got so severe that Meyer had to call in sick for work and her parents came to help out. She knew something wasn't right because she loved work and never felt anything like this before. Soon after, she was diagnosed with depression.
"I couldn't do anything, and it felt like the world was so dark," she said. "My doctor had me try every combination of antidepressants and treatments available to find something that worked, even medication from Canada, but nothing was really helping."
It wasn't until 2004 that she had a chance to participate in a three-month research study of a new treatment called transcranial magnetic stimulation (TMS). It's a nonsurgical depression treatment for adults who haven't found success with medication. In a TMS session, patients are treated with magnetic pulses to stimulate nerves in the left prefrontal cortex — the part of the brain that controls mood. Activating these nerves helps other cells function, increases serotonin production and improves a patient's overall mood.
"I remember having a lightness in my step and an instant sense of hope when I left the appointment," Meyer said.
Meyer's husband noticed a positive change right away, and she was grateful that her whole family could see how much better she was feeling. When the study ended, Meyer worked with a therapist regularly to try to avoid slipping into depression.
She and her husband moved to Columbia in 2014 after she retired. Over time, her depression became more challenging. MU Health Care began offering TMS in 2018, and the next year, Meyer found out she was eligible to receive the treatment.
Patients who are referred by their medical provider go to their first TMS appointment for a general psychiatric evaluation and a chance to discuss their individual case. If they qualify, patients participate in five sessions per week for up to six weeks. Patients are awake during the session and can drive home afterward.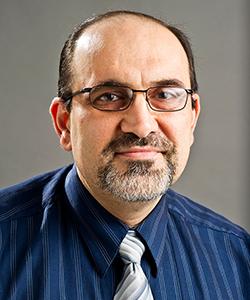 "Treatments used to last much longer, but now sessions take 20 minutes or less," said psychiatrist Muaid Ithman, MD, the medical director of interventional psychiatry. "Most of our patients opt for the express TMS, which only lasts for three minutes, and the side effects are minimal."
"I just felt a tapping during the treatments that I could only imagine being a woodpecker on my head," she said. "At most, I got a mild headache the first few treatments until my body got used to it. Plus, you're in and out so fast and feel so much better after."
Meyer enjoyed feeling like herself again. Six months after her initial treatment ended, she felt like she was sliding back into depression and qualified for a new TMS maintenance study being conducted by Ithman. One week per month, she received five treatments. That continued from April 2020 to March 2021.
"We're trying to find out if maintenance TMS can help patients stay free of symptoms for a year," Ithman said. "This could help patients stay off medication permanently."
Meyer said TMS has made a huge difference in her life.
"When I had depression, it would take days to balance my checkbook," she said. "After TMS, I can do it in just a couple of hours. This treatment is beyond a blessing for me."
Meyer encourages everyone she knows to be more open about depression. Although she no longer sings or teaches choir, she still uses her voice regularly to help others.
"My faith has helped me so much, and I know that God gave me my struggles for a reason," she said. "I love encouraging people to seek treatment, because I believe we all can be more open about our mental health. When you are feeling so down, just know that there is help. Even if you're afraid TMS isn't for you, it's worth a try, because there's always that chance that it could work."
If your depression has not improved with medication or other treatments, ask your doctor if TMS may be right for you.