MU Health Care trauma surgeon Jacob Quick, MD, says he sees roughly 30 major hunting accidents every year. But some key safety precautions can limit a hunter's risk of injury.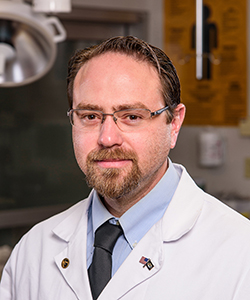 "We see everything from orthopaedic injuries like broken legs and arms to intra-abdominal injuries — injuries to the bowel, liver, spleen, kidneys, those kinds of things — to chest injuries," Quick said. "You name it, it can happen."
Quick, who is an avid hunter, said gunshot injuries are rare. He mostly sees hunters who were not wearing a harness and suffered a fall from a tree stand.
"The reality of it is that about 30% of all hunters will fall and have a serious injury at some point in time," Quick said. "Roughly 80% of those who fall don't wear a harness."
Quick said the new full-body harnesses are more comfortable and less cumbersome than older styles. In addition to wearing a harness, Quick offered other guidelines hunters should follow when using a tree stand:
Work in a team to set up a tree stand.
Keep three of your four limbs in contact with the ladder at all times.
Use a haul to bring up gear.
Inspect your stand and equipment before the hunt.
Make sure someone knows your location and time expected home.
Always carry your cell phone.
"One of the major safety precautions that you can do is always carry your cell phone with you," Quick said. "Don't put that in your backpack and leave it on the ground because, if you fall, you may not be able to get to it."
Missouri firearms deer hunting season runs through Nov. 26.