Published 9/14/2022
The newest tool in the fight against COVID-19 is a booster shot designed to protect you against the latest version of the virus.
Updated boosters from Pfizer and Moderna have been authorized in the United States and are now available. They are engineered to help your immune system recognize the BA.4 and BA.5 subvariants of omicron — the most common current strains of COVID-19.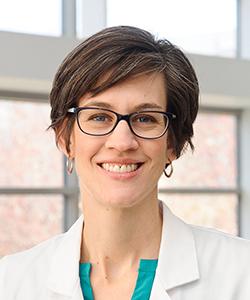 "We expect the new boosters are going to give strong protection, and they're going to be better because they're targeted to the version of the virus that's currently circulating," said Laura Morris, MD, the co-chair of MU Health Care's vaccine committee.
Here's what you need to know about the new boosters.
What's new?
The updated boosters are known as bivalent, as opposed to monovalent, which means they contain mRNA sequences that tell our cells to make antibodies against two versions of the COVID-19 virus — the original and the omicron subvariants. They retain the original protein because that version has proven to protect people from serious illness and death from all versions of COVID-19, and they include the new protein to give targeted protection against infection from the current strains.
"This is part of the benefit of the mRNA platform of the Pfizer and Moderna vaccines — they allow a small change in the manufacturing process to change the mRNA sequence, which allows it to be quickly updated," Morris said. "This is like tweaking a recipe slightly, as we do every year with the flu vaccine."
To get the updated vaccines to the public before the virus mutates further, the bivalent boosters were not put through the same lengthy human clinical studies as the original versions. The vaccines are so similar to the original versions that they did not require full-length clinical trials. They were tested on mice to prove that they generate a response from the immune system. Bivalent boosters are already being given in other countries, so more data about their effectiveness, safety and duration of protection in humans will be available soon.
"This technique for updating vaccines is well accepted, and we can trust what we know about the immune system response both on data from the original vaccine, which we know works well, and also from the version of bivalent shots that is currently being used in Europe and other places around the world," Morris said.
Who can get them?
The updated vaccines are authorized as single-dose boosters, so they are for people who have already received their primary COVID-19 vaccination series. The Pfizer booster is for people 12 years old and up, and the Moderna booster is for people 18 and older.
"If someone just completed their primary series or received a booster, as long as it's been two months since they last got a shot, they can get a new booster," Morris said. "If they recently had an infection, it's logical to wait about three months since the infection before they would really benefit from a booster."
Now that the updated boosters have arrived, the older versions of the Pfizer and Moderna boosters will no longer be given. Morris said there is no harm in switching brands from the one you've previously received and that it's safe to get a COVID-19 booster at the same time as your annual flu shot — one in each arm — to take care of two tasks in one trip.
Why should I get one?
You've probably built up some protection against severe COVID-19 illness through vaccination, infection or both, but there are still good reasons to get a booster.
For many people, a COVID-19 infection will feel like a nasty cold, but it remains extremely dangerous to your older and immunosuppressed friends and family. And even if you're young and healthy, you're at risk for developing long COVID-19, in which symptoms such as brain fog, fatigue and shortness of breath can linger for months.
"We know breakthrough infections are common and the vaccines help make sure people don't get seriously ill. A more targeted booster should help to minimize the number of breakthrough infections, keep people from missing work or school and keep people from spreading illness in the community," Morris said. "So if you're wondering why bother with this new booster if the old booster is still working, we do think the new version will work better."