Read the latest edition of MU Health magazine.
First Impressions
Lorna Moseley is the face — and voice — of the Missouri Orthopaedic Institute.
Read more
Pediatric Care
Children's Miracle Network Champion Child Jackson Morton discovers his passion for coding during treatment for leukemia.
Read more
Academic Medicine Advantage
Neurosurgery resident Patrick Belton, MD, asked the right questions and knew how to find the answers. His inquisitiveness led to a change that improved patient care.
Read more
Urologic oncologist Katie Murray, DO, invests her energy into finding the right long- term solutions for patients.
Read more
Zhenguo Liu, MD, rose from a tiny farming village in China to become one of the world's foremost experts on heart disease. He is now bringing leading-edge care and research to MU's cardiovascular program.
Read more
Orthopaedic surgeon Richard Ma, MD, knows how badly athletes want to get back on the field after injuries. He's working on ways to help them shorten their time on the sidelines.
Read more
In an academic health system, patients have access to clinical trials. That advantage helps a former firefighter avoid a painful side effect of cancer treatment.
Read more
 
Cardiovascular
MU Health Care's AFib patients who can't tolerate blood thinners have a new treatment option: a left atrial appendage closure.
Read more
Orthopaedics
Vertebral body tethering is the right choice to help a wrestler get back on the mat after a scoliosis diagnosis.
Read more
Obstetrics
The CenteringPregnancy program gives expectant parents a support group of peers.
Read more
Medical Education
Fayette physician Andrea Schuster, MD, credits MU's Rural Track Pipeline Program for giving her the map to her dream job.
Read more
School of Health Professions and School of Medicine faculty work together on a project to address the mental health needs of cystic fibrosis patients.
Read more
Letter from MU Chief Executive Officer
Medicine is a constantly evolving field, with new procedures and best practices developed on an almost daily basis. At MU Health Care, we're not content to merely adopt these best practices — we work as a team to set the pace for discovery and to make constant improvements in how we care for patients.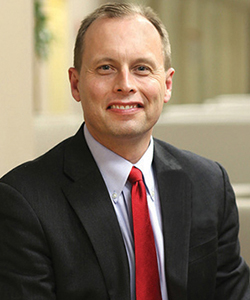 Quality improvement and innovation are at the core of who we are. We've increased our focus on quality and safety initiatives that have the greatest impact on our patients. We've implemented specific efforts to address areas we can improve and have already made marked progress in the areas of safety of care, readmissions and mortality. You can read more about our commitment to quality at muhealth.org/quality.
Innovation is in our DNA, and it's inherent in every aspect of the care we provide. Our clinicians, researchers and leaders work collaboratively to identify and pursue new ways to provide our patients with the quality care they deserve and expect from MU Health Care.
We take our mission to save and improve lives incredibly seriously.
In the past three years, we have implemented more than 1,600 quality improvement projects. They involve every employee, from physicians and nurses to housekeepers, facilities engineers and food- service workers. As an academic health system, we're committed to lifelong learning and innovation so our patients receive excellent, personalized care.
I hope that as you turn the pages of this magazine that you, too, are inspired by the drive of our clinicians, medical staff and researchers to improve care for you and all our patients.
Jonathan Curtright
Chief Executive Officer
University of Missouri Health Care