Read the latest edition of MU Health magazine.
First Impressions
Trauma nurse spreads the word about injury prevention.
Read more
Family Medicine
Family medicine doctors take care of newborns, the elderly and everyone in between.
Read more
Cancer Care
Clinical trial helps Columbia woman overcome breast cancer and get back to family time.
Read more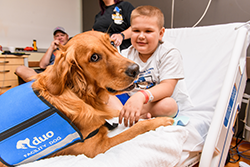 Patient Experience
When patients at Children's Hospital need a boost, Link the facility dog provides the motivation they need.
Read more
Technology
In 10 years, the Tiger Institute has transformed MU Health Care and made a difference in patients' lives.
Read more
Alliance for Precision Health will help harness the power of Siemens equipment to transform patient care, research.
Read more
Sports Medicine
Athletic trainers at Boonville clinic give area high schools professional care.
Read more
Cardiovascular
With screening and stent procedure, Boonville man escapes danger of aortic aneurysm.
Read more
Orthopaedics
Innovative technique eliminates painful complications for hip arthroscopy patients.
Read more
Outpatient knee and hip replacement surgery gets people home sooner.
Read more
School of Medicine
Researchers find yoga breathing exercises can reduce blood pressure.
Read more
Letter from MU Chief Executive Officer
At MU Health Care, we strive to deliver high-quality, seamless care to patients across our hospitals and clinics. It's just part of how we carry out our mission of saving and improving lives as an integrated academic health system.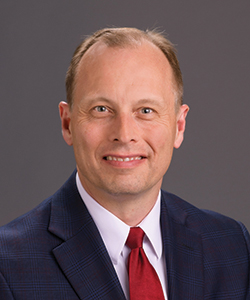 This integration wouldn't be possible without robust information technology (IT) as the backbone to help us deliver the well-coordinated care our patients expect and deserve.
A decade ago, the University of Missouri partnered with Cerner Corporation, the Kansas City-based health information technology company, to form an IT team known as the Tiger Institute. The Tiger Institute oversees the information technology infrastructure essential to the care we provide patients every single day.
Today, the award-winning, public-private partnership has led to MU Health Care's transformation into one of the nation's most technologically advanced hospital systems.
And this technological advancement has real benefits for patients — whether it's through the automatic alert that notifies medical providers when a patient is at-risk for sepsis; the HEALTHConnect online portal where patients conveniently manage appointments, request prescription refills and more; or the shared electronic health record that ensures patients transfer smoothly between MU Health Care and other facilities using the network, including Lake Regional Health System and, soon, Capital Region Medical Center.
As the health care and technology landscapes continue to change, it's important we continue to innovate so patients receive leading-edge care. I look forward to the advances the Tiger Institute will make in the next decade so we can save and improve even more lives across mid-Missouri.
Jonathan Curtright
Chief Executive Officer
University of Missouri Health Care