Read the latest edition of MU Health magazine.
First Impressions
Nurse takes advantage of chances to connect on a personal level while working at drive-thru testing clinic.
Read more
Giving
For 40 straight years, parents have followed through on vow to support burn unit that once treated their son.
Read more
Careers
With a little help from Career Institute, a longtime employee fulfills goal of becoming a nurse.
Read more
Physical Therapy
For Callaway County residents, physical  therapy backed by an academic health system is closer to home.
Read more
Family Medicine
After Boonville's hospital closes, MU Health Care fills void with the opening of a new family medicine clinic.
Read more
Orthopaedics
An accident nearly costs craftsman his thumb, but innovative limb preservation surgery helps him get back to his workshop.
Read more
Neurosciences
After 18 years of worry, woman finds treatment for brain aneurysm with new minimally invasive procedure.
Read more
Child Health
If your kids have gained weight during the pandemic, getting back to a healthy lifestyle can be a good family project.
Read more
Letter from MU Chief Executive Officer
None of us expected 2020 to play out like it has. But for all of the uncertainty COVID-19 has brought our society, here in mid-Missouri, it's also brought us together as one unified team.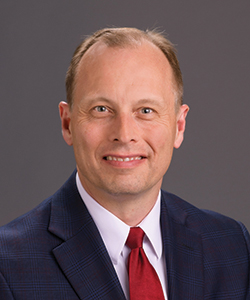 It's our mission to save and improve lives — regardless of the situation, no matter how daunting or unexpected it may be.
I'd like to share with you a few ways that our more than 6,000 amazing employees responded to the challenges brought on by COVID-19. Even before the virus made its way to mid-Missouri, we set up a dedicated incident command to coordinate our health system's preparedness planning and response to the pandemic. Led by key leaders in our health system, this structure allowed us to make decisions and mobilize quickly through a coordinated, centralized effort.
We established dedicated units to care for patients with COVID-19 and quickly stood up testing sites for our community. To date, we have administered more than 61,000 COVID-19 tests, including 47,000 drive-thru tests. We shifted many of our clinic visits to virtual visits. From March to June, we had 46,000 virtual care visits for primary and specialty care.
To reduce the spread of the virus, we continue to screen anyone who enters our facilities, and we have an enhanced visitor policy. These were difficult decisions that we made after many, many thoughtful discussions. We are proud of how the community has responded to these challenges and supported us in our efforts.
Early in the pandemic, the availability of masks and appropriate personal protective equipment, or PPE, was a very real concern. Our community saw a need and answered the call by partnering with us to create masks. With the help of countless volunteers, more than 90,000 masks were sewn by more than 260 community volunteers and distributed to our patients, visitors and employees. That is so amazing and is a testament to the caring and collaborative spirit of mid-Missourians.
As our community continues to deal with COVID-19, you may be wondering how MU Health Care is adapting and continuing to provide care. Know that your safety is our top priority. To find the latest information on our response efforts, as well as our testing and inpatient numbers, please visit muhealth.org/coronavirus and follow us on social media. We would love to hear how we're doing.
While we are combatting COVID-19, it's also very important that we remain vigilant against the flu. Because of the pandemic, reducing the spread of respiratory illnesses is more important than ever. Please visit muhealth.org/flu to find more information on how to get vaccinated against the flu this year.
I would also like to take this opportunity to introduce an important new leader of our team, Rick Barohn, MD. He is MU's new executive vice chancellor for health affairs and the scientific director of the NextGen Precision Health initiative. You can learn more about Dr. Barohn and the initiative on page 16.
Thank you for trusting us with your care. It's an honor to take this journey with you.
Jonathan Curtright
Chief Executive Officer
University of Missouri Health Care