Both before and after your weight loss procedure, you will need to maintain a healthy diet. At University of Missouri Health Care, we use the latest nutrition research to develop a personalized eating plan just for you.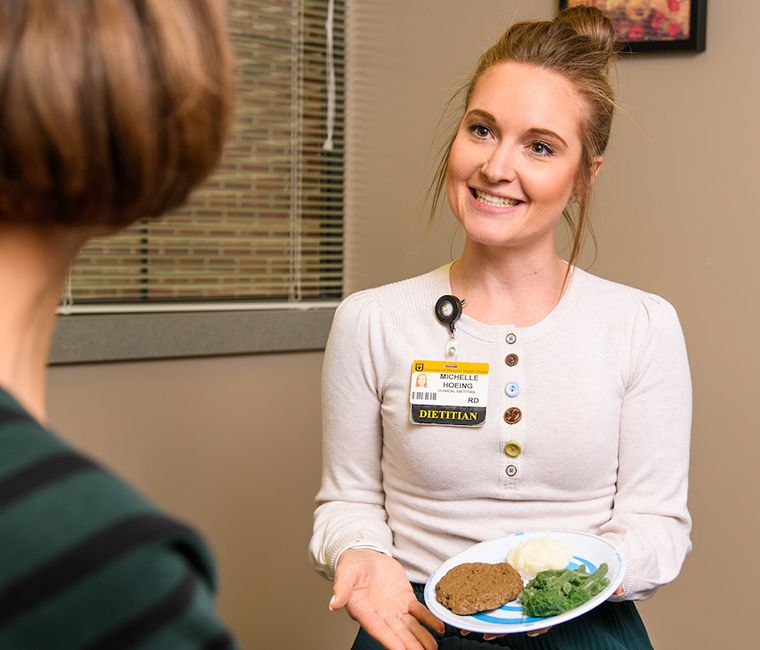 Eating after weight loss surgery
Our registered dietitians help you transition to your new lifestyle before you undergo surgery through preoperative classes. In addition to supporting your weight loss through education, we help you develop new habits you'll need for a healthy post-surgical life.
These habits include:
Drinking fluids between meals, but not with meals. After surgery, stop drinking 30 minutes before a meal and wait at least 30 minutes after a meal to start drinking again. Drinking fluid while eating or immediately after eating will cause the food to leave your pouch, making it easier to eat more food at one time or creating the desire to snack later.
Drinking at least 64 ounces of low-calorie, sugar-free fluid every day to stay hydrated.
Taking small bites and chew your food at least 10 to 20 times (or more) before swallowing. Food should be the consistency of toothpaste or applesauce before you swallow.
Giving up or reducing caffeine intake.
Do not drink alcoholic beverages for at least one year after surgery. After that, alcohol must be consumed in moderation, as it can cause stomach ulcers and increase your calorie intake.
Avoiding carbonated beverages (including regular soda, diet soda, club soda and beer). Carbonated beverages place air into the pouch which can cause gas, bloating and discomfort.
Eat three meals every day. Do not skip meals and do not graze between meals.
Take recommended bariatric-specific vitamin and mineral supplements.
These habits help you keep your new stomach pouch small, maintain weight loss and avoid malnutrition.
Meals after weight loss surgery
To ensure you get the nutrition you need without becoming overly full, you should eat your meals in this order.
Eat lean protein first. Women need at least 65 grams of protein per day and men need at least 80 grams of protein per day. The best sources of protein are:

Beef
Cottage cheese
Eggs
Fish
Pork
Poultry
Protein supplements
Seafood
Tofu
Wild game

Eat non-starchy vegetables second (such as leafy greens, green beans, broccoli, carrots, etc.)
Eat fruit third.
Eat whole grains OR starchy vegetables (potatoes, corn, peas) last.
Weight loss nutrition resources
For more information on pre- and post-surgery nutrition, please review the following guidelines:
Learn more about Bariatric Surgery Services at MU Health Care.