If you need assistive technology for a speech disorder or a disability, the experts at University of Missouri Health Care's Assistive Technology Evaluation Center can help. Our specialists are trained in speech therapy and occupational therapy.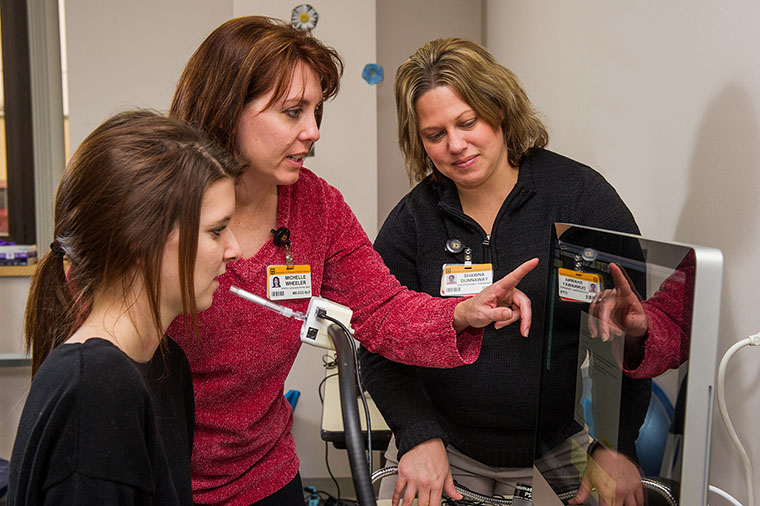 Therapists provide individualized assessments, evaluations and recommendations for individuals with:
Communication disorders that impede a person's ability to effectively communicate with others.
Motor or physical disabilities that prevent someone from accessing a standard computer or communication device.
Work-related injuries that require modification of job tasks or a means to control the environment.
What are assistive technology devices?
Assistive technology devices help with physical, cognitive, reading and speech limitations. Here are a few examples:
Automatic door openers
Classroom tools, such as automatic page-turners
Closed captioning
Computer screen readers
Hearing aids
Prosthetic devices
Ramps
Scooters
Voice recognition software
Wheelchairs
Referrals and evaluations
We accept referrals from:
Area schools
Client advocates
Independent living centers
Individual therapists
Physicians
Regional centers
Special educators
The Assistive Technology Evaluation Center is approved as an evaluation site by:
Medicaid
Medicare
The Bureau of Special Health Care Needs
The Telecommunication Access Program for the Internet (TAP)
Vocational Rehabilitation
The assistive technology process
If you believe you or a patient (if you are a referring physician) is a candidate for assistive technology, please begin with the following steps.
1. Complete a pre-evaluation survey. You can e-mail or mail the form.
To e-mail the form: 
Save the form as a PDF on your computer.
Download or open the file in Adobe Reader. 
Click "Fill and Sign" and "Add Text" to type in the form.
Complete the form and save the PDF.
Attach the document to your email.
Email the form to umhsneuropsrs@health.missouri.edu
To mail the form:
Complete the form and mail it to:
The Assistive Technology Evaluation Center
Mizzou Therapy Services
315 Business Loop 70 W.
Columbia, MO 65203
2. Obtain a physician's order.
3. Make an appointment for an evaluation.
4. The assistive technology team completes an evaluation.
5. The team writes a report.
6. The team sends the report and recommendations for equipment to a durable medical equipment provider.
7. The provider contacts the funding source for approval to purchase the recommended equipment.
8. After the equipment is received, the assistive technology team sets up the equipment and provides training. Our experts will help you program your devices and communication boards as needed.