As part of our commitment to staying on the forefront of innovation and providing evidence-based care for our patients, MU Health Care is proud to offer group prenatal care.
Group prenatal care, also known as centering, combines three important components — medical appointments, education and support — into discussion-focused group sessions.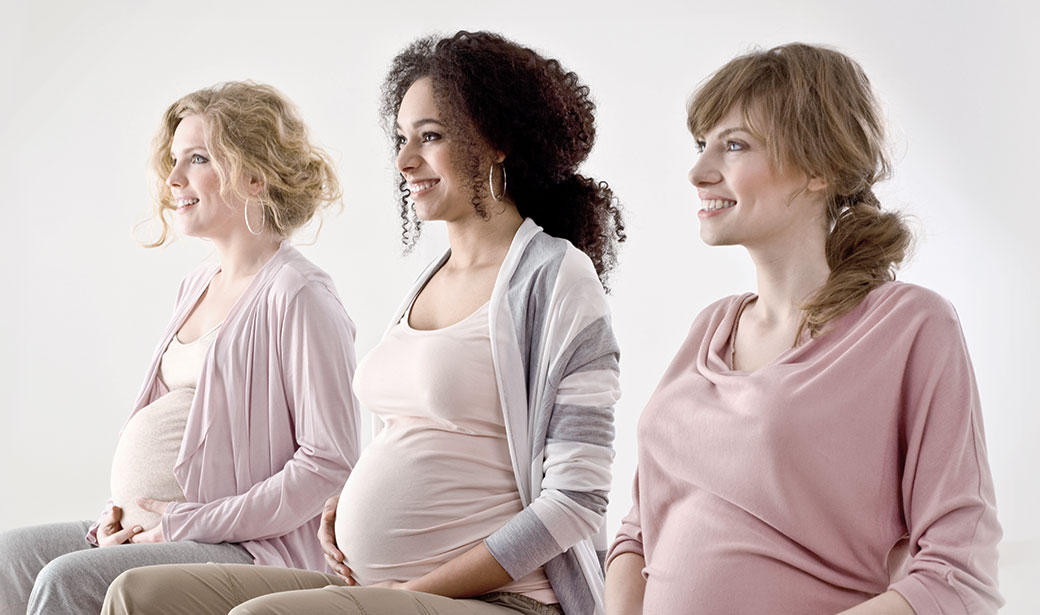 Group prenatal care brings together eight to 12 women in their second trimesters for routine prenatal care and learning. In total, a woman will attend 10 sessions. Each session is approximately 90 minutes to two hours long.
What Can I Expect?
During each visit, you'll engage in your care by taking your weight and blood pressure and recording your own health data. You also will have one-on-one time with your provider for belly checks and personal conversations. When the group "circles up," there is facilitated discussion and activities. This provides time to ask questions and to practice such skills as breathing and relaxing or holding and comforting a baby. The group learns from both the provider and one another. 
Session Topics
Check out the topics that will help guide your group from the second trimester through the end of your pregnancy.
SESSION 1: 12-16 Weeks - Prenatal testing, nutrition, serving sizes, food diary, healthy lifestyle choices and intro to infant feeding.
SESSION 2: 16-20 Weeks - Body changes during pregnancy, common discomforts, taking care of your back, healthy gums and teeth, and pain-management options during labor.
SESSION 3: 20-24 Weeks - Mental relaxation, breastfeeding your baby, and car-seat safety.
SESSION 4: 24-28 Weeks - Thinking about your family, family planning, fetal brain development, pre-term labor, skin-to-skin and rooming-in.
SESSION 5: 26-30 Weeks - Labor, birth facility, breathing, medications for labor and birth, signs of early labor and when to call your physician, pacifiers and supplementation.
SESSION 6: 28-32 Weeks - The birth experience and birth plans.
SESSION 7: 30-34 Weeks - Your newborn's first days, planning pediatric care, caring for your baby, circumcisions, brothers and sisters, when to call the pediatrician, how to get a baby latched on during breastfeeding and how to know when a baby is hungry.
SESSION 8: 32-36 Weeks - Pregnancy to parenting transition, kick counts, emotional adjustments, postpartum depression, and pregnancy — when to call.
SESSION 9: 34-38 Weeks - Putting it all together, newborn safety, infant massage and postpartum depression.
SESSION 10: 36-40 Weeks - Newborn care, growth and development; the first month, home and family changes; and when to call the pediatrician.
Why group prenatal care?
Health Benefits. Numerous studies show that women who participate in group prenatal care are more satisfied with their care, feel more prepared for birth and for parenting, and have higher rates of breastfeeding success when they leave the hospital. Other studies have shown a decrease in risk for preterm birth as well as higher birth weights for babies who are born premature.
Meet Your Mom Squad. You might find the relationships developed during your group sessions continue long past the scheduled visits as you create lasting friendships and support systems. No waiting. Group prenatal care is designed to be respectful of your schedule. There is no wasted time standing in line to check in or waiting for your appointment to start. Groups start and end on time. Additionally, all of your session dates are pre-planned as part of a series, so you'll be able to plot out your calendar in advance.
Interactive Learning. It's not a class. Your health care team won't lecture. Instead, you'll explore the topics that matter most in a way that is fun and engaging. Everyone benefits from real discussions with your trusted health care team and group. Participants are empowered to share and learn from others.
More Time with Your Health Care Team. On average, an obstetrics patient spends two to four hours with her health care provider over the course of her pregnancy. Many report feeling rushed during these appointments. Throughout the 10 sessions, women spend approximately 18 to 20 hours interacting with their health care team.
Who can participate?
Group prenatal care is available to expectant mothers — both first-time and experienced — of any age who are expecting one baby and don't have a significant pre-existing medical condition such as high blood pressure or diabetes. 
Frequently Asked Questions
How is my privacy protected in a group setting?
During the first group session, each participant signs a confidentiality agreement stating that any personal matters discussed during sessions should not be shared outside the group setting. Ground rules are agreed upon and posted in the group space. Each participant determines how much personal information she wishes to share. No one ever is pressured to disclose personal concerns. Individual time with your provider will be conducted in a private area of the meeting space. Should you require an exam or have issues that require additional privacy, you will be seen in an exam room outside the group appointment.
What if I don't feel comfortable sharing information in a group setting?
That's a common concern. Rest assured there is no pressure to share anything with the group that you are not comfortable sharing. However, most participants find that the group quickly feels like a group of friends who are all going through similar things, and the benefits they receive from sharing their experiences are tremendous.
What is the cost for this type of care?
Your charges and/or copays for group prenatal care are the same as traditional care and are determined by your insurance policy. If you have questions about your coverage and estimated out-of-pocket expenses, talk with our health care practice administrator.
What if I can't leave my job for a two-hour appointment?
While two hours might seem like a long time for your prenatal visit, remember there is no waiting for your appointment to start. When you arrive, you will go right to the group prenatal care space to get started. Additionally, there is no need to check out after or to spend valuable time scheduling your next visit. You will receive a schedule of all your appointments when you enroll so that you can make arrangements for time off in advance. We try our best to schedule sessions in the morning or over lunchtime.
Can my partner or other support person attend my group sessions with me?
We encourage you to bring your partner or support person — they will benefit from being a part of the group, too! We ask that you bring the same person to each session for continuity and confidentiality. Support people sit in the circle and fully participate in the all activities and discussions. Throughout this time, safety remains our top priority. For those coming into our facility, we've taken extra safety precautions to ensure you receive safe care. Learn more about our safety efforts.
Can I bring my other children?
Part of the benefit mothers receive from group prenatal care is two complete hours of time devoted to their health and their pregnancies. We ask that you not bring your children to the group sessions.
Is there childcare available?
At this time, we do not provide childcare during sessions. Depending on need and interest, this is a service we might offer in the future.
Will I still get the ultrasounds and lab tests I expect as part of my prenatal care?
Your provider is responsible for seeing that your care meets all the standards for prenatal care. Labs, prescriptions and ultrasounds will be ordered for you as appropriate. Results of the lab tests and ultrasounds will be shared privately with you. The reason for and significance of testing and medications is often a topic for group discussion.