Even with a great support system in place, bringing your new baby home from the hospital can be overwhelming and exhausting.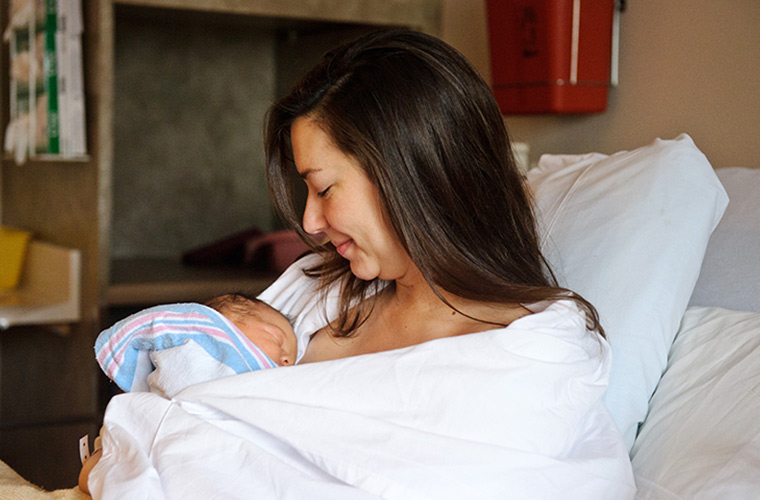 Here are some things you can do ahead of time to help smooth the transition:
Make freezer meals. Preparing freezer meals for yourself and your family in your last trimester of pregnancy can make eating nutritious food easier and more economical. Simply perform an Internet search for "freezer meals" and you'll find dozens of recipes for meals for every taste and cooking level.
Prepare nursing stations. Especially in those early weeks of your baby's life, you'll be spending many hours nursing your baby. Make feedings less stressful and more enjoyable by setting up feeding stations in a couple locations around your home, such as in the baby's room, your bedroom and your living room. Stock essentials such as burp cloths, a nursing pillow, nipple cream (such as lanolin), bottled water, healthy snacks, some reading materials and perhaps even a cell phone charger.
Obtain your breast pump. If you plan to breastfeed, talk to your obstetrician about getting a prescription for a breast pump in your last months of pregnancy. Note that your insurance should cover at least a basic model breast pump, so make sure you research what your plan covers to avoid several hundreds dollars of out-of-pocket cost.
Accept help. Your family and close friends may be eager to offer help for the impending arrival of your little one. If they ask how they can help, ask if they can help you prepare freezer meals, set up a meal delivery rotation among friends and family, help out with older siblings or help you deep-clean your home before your baby comes home.
When to come to the hospital
If you think you are in labor, please call your physician or come to the Family Birth Center at the MU Health Care. You can enter through the Women's Health Center at the front of the hospital. Please enter through the emergency room on weekends or after hours. Short-term reserved parking is located in front of the Women's Health Center entrance for emergency deliveries. Take a virtual tour online.
What to bring to the hospital
Getting ready for the birth of your baby includes preparing for your hospital stay. Here's a list of items to make your delivery and special day more comfortable.
For mom
Birth plan
Breast pads
Camera
Clothes
Electronics chargers
Hair bands
Insurance card
Nursing bras
Pajamas (if you prefer to not wear a hospital gown)
Robe
Slippers 
Toiletries
For baby
Booties or socks
Car seat*
Outfit to wear home
Receiving blankets
* Please review your car seat instructions for proper installation and have your car seat installed before you arrive at the hospital. Our staff members are not experts in car seat installation, so we recommend that you have your infant car seat installation checked by experts. Your baby must ride home in an approved infant car seat.
A few tips:
Remove coat from baby before strapping into car seat
Rear facing until at least age 2 — longer if the baby doesn't meet the height/weight requirements
Ensure that the chest strap is at the level of the baby's armpit
For your support person
A pillow and blanket
Change of comfortable clothes
Pajamas
Snacks
Toiletries
For siblings
A gift for the baby
A gift from the family to the older siblings
A pillow and blanket for naps – While there is plenty of room for siblings to be part of the birth experience, please do not plan on older brothers or sisters spending the night.
Crayons, markers, paper and coloring books
Snacks
Toys
Going home with baby
Leaving the hospital can sometimes feel overwhelming – physically, mentally and emotionally. Our staff is here to help you in every way.
Bring loose-fitting, comfortable clothing for yourself and a seasonally appropriate outfit for your baby. On the day you're medically ready to go home, we will release you as soon as possible. You'll receive an informative booklet that guides you in the proper care of yourself and your baby for the first six weeks after delivery.
Infant sleep safety
Make sure that you and everyone who takes care of your baby follows these guidelines for infant sleep safety:
Your baby should always sleep in a safe sleeping surface for babies, such as a crib, bassinet or pack-and-play. Keep the sleeping area free of loose sheets, blankets, quilts or stuffed animals. Your baby should never sleep on an adult mattress or other surface such as a couch.
Your baby should always be placed on his or her back to sleep.
Your baby should sleep alone – never with an adult or another child.
Your baby should not be overdressed while sleeping or sleep in a stuffy room. Overheating during sleep is a risk factor for SIDS-related deaths.
Your baby can be swaddled with a swaddling blanket or swaddler, but only until he or she is able to roll over. Swaddling babies who can roll over is not safe.
Get some rest
When you get home, you may wish to be alone with your new family. Accept offers of help, but leave enough time to rest. "Sleep when the baby sleeps" is also a good rule to follow.
Your body after baby
Now that you've had your baby, your body will continue to change.
Cramp pains in your uterus will last a few days. This cramping is your body's way of decreasing postpartum bleeding.
If you had a laceration, this area will be very sensitive when you first come home.
Because of pushing during labor, hemorrhoids may develop. Drink lots of fluids and a high-fiber diet filled with fruits and vegetables.
As your milk comes in a few days after delivery, your breasts may become tender and large. Breastfeeding frequently will help relieve this discomfort. Even for women who are not breastfeeding, wearing a supportive bra is recommended.
Call your health care professional if you experience fever, increase in vaginal discharge or bleeding, intense pain or cramping, feelings of depression or difficulty breathing.
Postpartum appointments
Schedule an appointment with your health care provider about six weeks after delivery of your baby. This is a good time to ask follow-up questions about your health after delivery.
Have your baby seen by a pediatrician or family physician for vaccinations and regular well baby check-ups. The American Academy of Pediatrics recommends selecting and visiting your baby's new physician in the last three months of your pregnancy.